Have you ever felt the urge to stuff an avocado with rich, flavorful tomatoes, a
divinely drippy egg
or
crispy bacon
?
This is a rhetorical question. The answer is as vibrantly clear as the green of a perfectly ripen avocado first exposed from underneath its skin. The only matter to further examine is how, exactly, you might fill your avocado.
The wonders of the green, fleshy fruit are many: Avocados boast
healthy fats
, can keep cholesterol levels in check and function effortlessly as a tasty little bowl to house your favorite ingredients.
Try these five, almost too-easy avocado boat recipes below.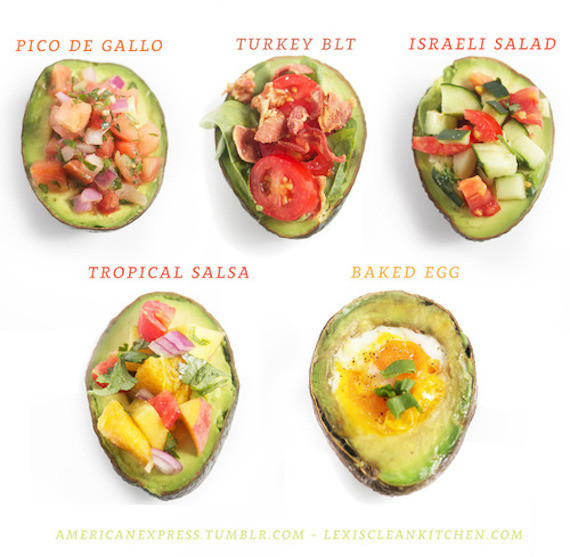 Pico De Gallo:
Chopped tomato, red onion, garlic granules, jalapeño, cilantro, Himalayan sea salt, and lime juice.
Turkey BLT:
Off-the-bone turkey breast, nitrate-free bacon, chopped tomato, fresh spinach.
Israeli Salad:
Cucumbers, ripe tomatoes, parsley and onion. Add in some feta if you like!
Check out the full recipe here
.
Baked Egg:
Crack an egg into the center of your avocado half. Bake at 350 degrees for 20 minutes until egg whites are opaque.
Tropical Salsa:
Mango, tomato, cilantro and lime juice.
Check out the full recipe here
.
Image courtesy of American Express' Tumblr, which creates and curates content to inspire, motivate and advise people on a range of subjects--covering health/wellness, food, personal finance, DIY and the new definition of success. This specific image was created by Lexi's Clean Kitchen for American Express' Tumblr.
Want to read more from HuffPost Taste? Follow us on Twitter, Facebook, Pinterest and Tumblr.