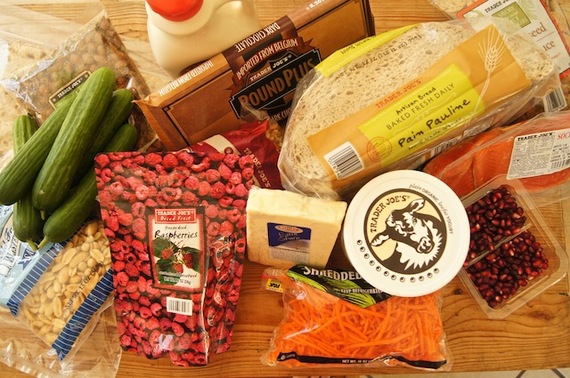 In a perfect world, I'd do all of my grocery shopping at a leisurely pace at the farmers' market, make my own yogurt, cheese and butter, can all of my own fruits and vegetables, and have pastured chickens grazing in my backyard providing eggs naturally rich in omega-3s to feed my always polite and perky children.
The reality is, some of these things happen some of the time (minus the grazing chickens and perpetually perky children). I fill in with convenience items when needed. Even though "convenience food" is often code for junk food, it's not always the case. Take Trader Joe's, for instance, which does a pretty darn good job of offering "quick and easy" that is also rather healthy.
And while I get my Trader's fix a couple of times a month, some folks I know don't shop anywhere else and wax so enthusiastically about the place, you'd think Trader Joe was someone they were dating. Plus, who doesn't love those tiny cups of coffee to swill as you shop?
The upside of Trader Joe's is that it promises that any food bearing its label has no artificial colors, flavors, preservatives, genetically modified ingredients, MSG, or added trans fats. Love that, too!
The downside? The foods rely a little more heavily on packaging than I like. It would also be nice to see a few more organic items in the mix. All that being said, here are my top picks for shopping at Trader Joe's.
Trader Joe's Top 20
Pain Pauline -- The name and style of bread is clearly a play on the famous Pain Poilane of France. And while it isn't quite the loaf of its Parisian counterpart, it does make for an excellent slice of toast or grilled cheese sandwich. Plus, made with whole grains and just three ingredients -- whole wheat, water, and salt -- it meets my guidelines for a better bread.



Steamed Lentils -- I was pretty surprised by how good these were the first time I picked them up in the produce section of the store. The lentils maintain their texture and don't go to mush, as you might expect. Make a Lentil Salad by warming them slightly, adding diced vegetables, olive oil and vinegar, salt and pepper, and chopped fresh herbs.



Trader Joe's Pound Plus Dark Chocolate -- I prefer bittersweet chocolate to milk for its higher antioxidant content. This one is imported from Belgium and sold at a significant discount over many mainstream brands.



Organic Popping Corn -- One of the best, whole grain snack foods you can buy, and Trader Joe's offers an organic one at under two bucks a bag. That's a lot of movie time.



Frozen Wild Sockeye Salmon -- Of course nothing beats fresh fish, but with the steep price of wild salmon these days, this frozen sockeye is a tasty alternative.



Freeze-Dried Fruit -- The store stocks a variety of one-ingredient freeze-dried fruit, including raspberries, strawberries, and grapes. They're a fine fix for a sweet tooth and excellent in place of dried fruit in granola and homemade muesli.



Old Fashioned Blister Peanuts -- There's some kind of magic in these peanuts. Bigger than garden variety peanuts, they're superbly crunchy and perfectly salted. Tasty eaten out of hand, I also love them in peanut butter cookies or tossed into an Asian slaw. Double thumbs up.



Pure Maple Syrup -- Although I grew up on Mrs. Butterworth's, I've adopted pure maple syrup to pour over pancakes and use as a household sweetener. Trader Joe's offers a more affordable option in a generous size than most markets.



Shredded Raw Carrots -- Sure I could peel and grate a whole mess of carrots to keep on hand, but the fact is, I don't. This has become a refrigerator staple to add to sandwiches, wraps, and salads.



Whole Wheat Lavash Bread -- This is a pantry staple for wraps, roll ups, and easy Lavash Pizza. They also sell a white flour version, but I find the whole wheat goes under the radar with my crew.



Mini Brie Bites -- Another kid favorite for school lunch, these little Bries sold in a pack of six are darn cute and good for a snack along with a piece of fruit. They also make a quick breakfast smeared on whole grain bread under sliced tomato.



Trader Joe's Brand Plain Organic Yogurt -- I always have a tub of plain yogurt in the fridge, preferring to add my own fruits and sweeteners over having someone else do it for me. This creamy organic yogurt does the job.



Thai, Lime & Chili Almonds -- Warning: These are spicy. Seasoned with lemongrass, lime, and chili, they make a good snack food fix for the spicy-tolerant child or for a grown-up alongside a favorite cocktail.



Cabot Sharp Cheddar -- A sharp Cheddar that is actually sharp, a little goes a long way with this Cabot cheese since it's mega flavorful.



Baby Beets -- For a quick side dish, these tender, cooked beets sold in the produce section are a cinch. I like to slice them, mix with oranges or tangerines, toss with olive oil and vinegar, and top with crumbled feta.



Bob's Red Mill Flax Meal -- Since flax seeds need to be ground in order to yield the full nutritional benefits, I opt for flax meal rather than whole seeds. I store the flax meal in the freezer and add a scoop or two to baked goods, homemade granola, hot cereal, and smoothies for a fiber and omega-3 boost.



Refrigerated Whole Wheat Pizza Dough -- I buy pizza dough when I don't have time to make my own. Trader Joe's makes for a pretty fine pie.



Roasted Seaweed Snack -- Seaweed is naturally rich in minerals, low in calories and takes care of the "salty snack" fix. My kids are crazy about it.



Frozen Fruit -- I keep a small storehouse of frozen fruit on hand (organic when I can get it) for breakfast and after school smoothies. Trader Joe's has a good variety.



Organic Persian Cucumbers -- These petite cucumbers don't need to be peeled or seeded so make a quick add-in to salads or school lunches. They're crunchy and get extra points for their "cute" factor.
P.S. I also like the wine section of the store. Bargain basement prices and a good variety of options.
What are your Trader Joe's picks?
For more from Katie, check out her blog, Mom's Kitchen Handbook, where you'll find recipes and tips for feeding a family. You can also follow her on Instagram @KatieMorford and find out what she's up to on Google+
.