by Sari Shine
I'm not quite sure when olive oil evolved from a product that you pick up at the grocery store, into an exclusive item for the most refined palates, carefully selected from the vast selection available. When did cooks become chefs and then cultural idols? When did we become so addicted to food and cooking blogs? How did breakfast become a culinary event?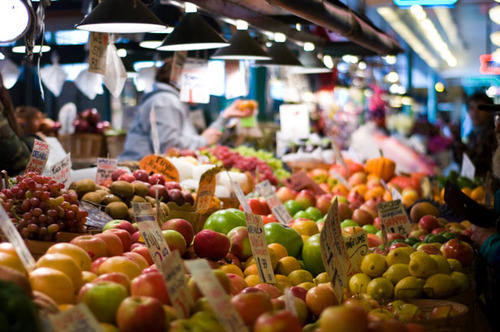 Our social lives revolve around food. It's all about home-cooked meals and eating out. Cooking workshops are in popular demand. Family meals are full-fledged celebrations. We want much more than a basic salad made of lettuce and tomatoes. People spend hours roaming shops and markets in search of the ideal herbs and unique ingredients for that perfect, special dish. Our cooking habits have been revolutionized. Today's markets are no longer basic farmers' markets selling low-priced tomatoes and cucumbers. They too have joined the gourmet craze and now feature exclusive cheeses, fresh baked goods and homemade meals.
It's hard to pinpoint precisely when the Tel Aviv food scene began to soar but there is no doubt that in recent years, we've caught up with world trends. Tel Aviv has earned a reputation of being foodies' paradise. It's a wonderland for people who love good food, restaurants and markets. The quality and abundance of products easily competes with cosmopolitan food scenes in Paris, London and New York, and is often even more refreshing than its counterparts. The Tel Aviv tourist scene that once centered on the city's beaches has now begun to speak a new language - the language of food. How exactly did the rigid, frugal society that Israel once was become the culinary metropolis that it is today?
1. Along Came Ruth Sirkis


"Food was once about survival, nothing more. The period of austerity in Israel lasted long past the official regime of the 1950s", says chef Israel Aharoni. "Frugality was considered bon ton. Cookbooks taught us how to conserve as much as possible and to utilize leftovers, until Ruth Sirkis came along with her cookbook, From the Kitchen with Love, and transformed the entire approach to food in Israel. Food suddenly became a source of pleasure and enjoyment".
The Tel Aviv A Taste of the City Food Festival triggered the culinary revolution in the city 17 years ago. It has since become an annual tradition and despite the fact that it was not held this year, rumor has it that it will be back next year, bigger and more delicious than ever before.
2. From Gourmet Restaurants to Quality Street Food
Chef Israel Aharoni's timeless Yin Yang restaurant was the third gourmet restaurant in Tel Aviv, following Alhambra and The Casaba, which primarily targeted tourists and visitors from abroad. Today, serious internet research is required to choose a gourmet restaurant from Israel's vast selection, though good food can be found in abundance on the streets as well.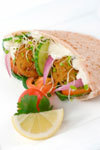 Israeli street food was once limited to shawarma and falafel, but today, renowned chef Eyal Shani runs two cafeteria-style restaurants that serve quality food in a pita. Food stalls have undergone major upgrades and people stand on line every Friday for a sabich sandwich on the corner of Dizengoff and Frischman St.; the food fair in Dizengoff Center is packed every week, and the marvelous stalls in the marketplaces offer genuine Turkish burekas, Moroccan sandwiches, malabi desserts and much more.
"Today, you can find food from all over the world on Israel's streets", says Aharoni. "The revolution began when Israelis began to travel the world and experience an abundance of flavors and aromas, that they wanted to enjoy at home as well. The demand was there and Israel's restaurateurs rose to the challenge. Israel is the only place that serves Thai stir fry in a baguette. No other country would ever
think of eating a steak out of a pita on the street. It's ingenious".
3. In Good Health
While street food might not be dieticians' idea of a balanced meal, health-food has become increasingly popular and easy to find. Vegetarian and even vegan restaurants are springing up like mushrooms after the rain. You'll find at least five on Yehuda Halevi St. alone. Their menus feature vegetarian shawarma, organic falafel, vegan hamburgers and tofu hotdogs. Even regular restaurants offer a selection of vegetarian and vegan dishes.
4. Shopping at the Marketplace
But it's the marketplaces that have undergone the greatest transformation in Tel Aviv's culinary scene. The long-standing Carmel Market has been upgraded and renovated but still maintains its authentic atmosphere; Levinsky is known for the intoxicating aromas emitted from endless spice shops and stalls; the train station market offers all kinds of organic produce; the Jaffa Port market; the farmers' market at the port in Tel Aviv; and the latest sensation - the Sarona Market, a huge enclosed market at Sarona Gardens located just beneath the Gindi-Sarona Towers.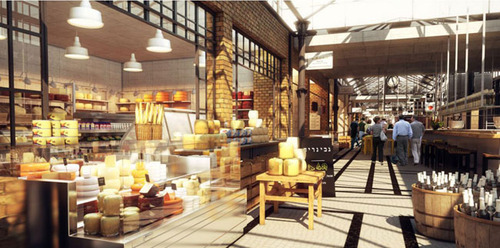 "The market scene has changed immensely in recent years. It's not only the meticulous, modern design but also and more importantly, the variety available", explains Yaron Kestenbaum, Israeli chef and culinary advisor for the Sarona Market. "The farmers' market at the Tel Aviv Port (conceived thanks to Michal Ansky's vision and creativity) was the trigger for the latest trend. The Sarona Market takes the concept a dozen steps forward. Its creators' vision of combining new and old - a modern, chic, gourmet marketplace combined with the classic characteristics of the traditional one, offering quality products at affordable prices. We call it the culinary market and it will become the beating heart of Israel's culinary scene".
The Hebrew version in Saloona is here