If there's one thing HuffPost Taste editors know about our readers, it's that you're kind of obsessed with
s'mores
. You're willing to go to
ridiculous lengths
to make them, you'll eat the
graham/chocolate/marshmallow flavor combination
in just about any form, and you almost broke the Internet when we wrote about a
s'mores-stuffed chocolate chip cookie
. Because of all this, we decided to give you a gift. The gift of more s'mores.
We've eaten them at bonfires, campfires, in kitchens perched over gas stoves, and in our sad little living rooms with the aid of a microwave, but for all the hundreds of s'mores we've consumed in our lives, no one has ever made us one with anything but the classic milk chocolate Hershey's bar. Don't get us wrong, it's the
perfectly engineered chocolate bar
for a s'more. But we started to wonder: Are we missing out on something great?
First we wondered what a s'more would be like with a Reese's Peanut Butter Cup inside it, and our heads exploded (not literally, because then it'd be really hard to eat s'mores). Then we wondered about dissected Snickers bars, and whether or not they'd melt under the heat of the roasted marshmallow. Then, one of us suggested a York Peppermint Patty -- there was controversy. We knew there was only one thing to do: Test them all.
And so we did. Below, you'll find our assessment of each, with beautiful GIFs to accompany each magical s'more. Don't be jealous. Just go make one for yourself instead.
[GIFs and photos shot by Damon Dahlen/The Huffington Post]
PREGAME PREP
Consider the thickness of the classic Hershey's chocolate bar, and aim to achieve that same thickness, no matter which type of candy you use. For something inherently chunky like a Snickers or a Milky Way, dissect the bar in half with a sharp chef's knife, like this: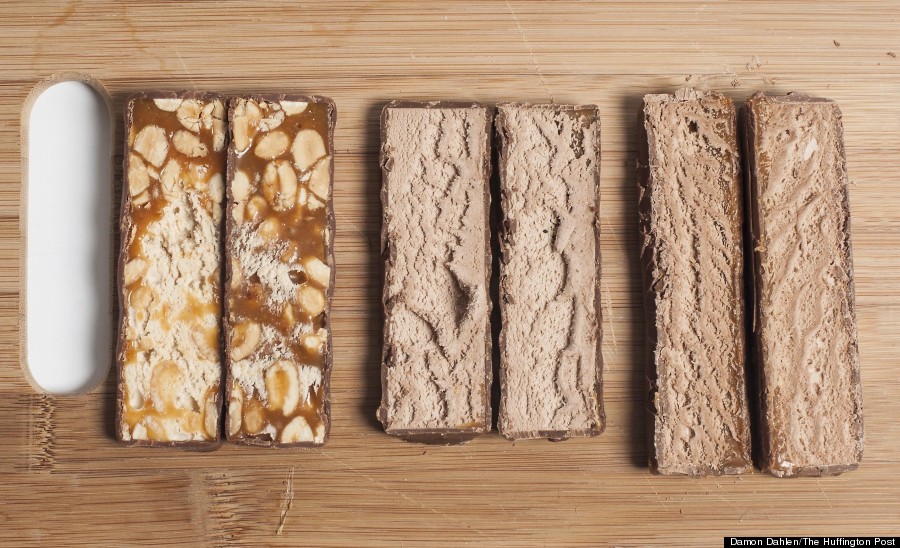 NOW LET'S DO THIS
Snickers: For The Rebels Among You
We had reservations about whether the peanuts would disrupt the texture of the s'mores, but we were being ridiculous. The milk chocolate, caramel and nougat didn't melt like a traditional Hershey's bar would, but they softened enough to preserve that classic s'mores feel.
The Milky Way Bar: For Lovers Of Goo
Same as the Snickers bar, minus the crunch.
Reese's Peanut Butter Cup: For Anyone With A Beating Heart
Though the peanut butter filling may never melt the way you wish it would (you can thank preservatives for that), that's the only fault we could find with this god of all s'mores. The thin milk chocolate shell eventually softens under the pillowy marshmallow, giving way to a velvety bite of happiness that you'll gladly punch someone in the face over if they try to wrestle it away from your sticky fingers.
York Peppermint Patty: Not For Everyone, But For Those With Resplendent Taste
If you're a fan of ice cream sundaes made with mint chocolate chip and hot fudge, you will LOVE this (otherwise, you might hate this). The hot marshmallow instantly melts the thin chocolate shell, which coats your tongue with what you'll convince yourself is hot fudge sauce.
Krackel: For Crunch Addicts
Since the Krackel bar is composed of the same basic milk fat percentage as the classic Hershey's bar, the result is a true-to-classic-s'mores melt factor, plus the light crunch of puffed rice (which is, surprisingly, still detectable above the crunch of the graham cracker).
Hershey's Special Dark: For People Who Hate S'mores And/Or Messes
I've been trying to convince my mom for
years
that dark chocolate is just NOT meant for s'mores. It's the brattiest of all chocolate bars, refusing to melt. As seen in the GIF above, in which it
cracks the freaking graham cracker
in its refusal to give, I can now say I am absolutely correct. (Sorry mom, I still love you, and dark chocolate too.)
Want to read more from HuffPost Taste? Follow us on Twitter, Facebook, Pinterest and Tumblr.