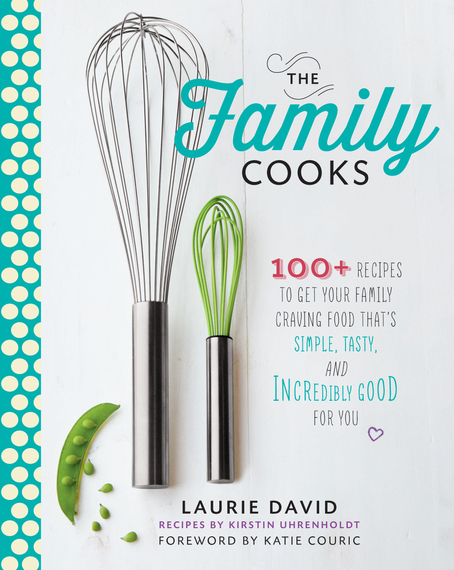 The 'summer porridge' recipe in Laurie David's new book
The Family Cooks
(see below) is so delicious, it's dangerous. I didn't realize just how dangerous till a TSA official confiscated the Mason jar containing my latest batch and tossed it in the trash at La Guardia airport last week.
Admittedly, David's recipe is da bomb; it reinvents a classic hot winter comfort food as a cool summer treat. You mix rolled oats with yogurt, fresh berries, a little honey and grated apple, let it chill overnight, and voila! The next morning, you've got a tasty, healthy, good-to-go breakfast to savor or eat on the run.
For the record, I made my porridge with
Siggi's
super thick nonfat Icelandic style skyr, not their runny Swedish-style drinkable yogurt, which clearly
would
have fallen under the TSA's ban of liquids weighing more than 3.4 oz.
The dumbest thing about this kooky confiscation is that my wholesome homemade breakfast was actually formulated to
counter
a national security threat. "Poor nutrition is having a crippling impact on our nation's military preparedness,"
Sen. Debbie Stabenow (D-Mich.) noted earlier this month
, adding that "being overweight or obese" is now the primary reason that applicants fail the military's physical exam. According to Stabenow, the percentage of too-fat-to-serve youths shot up nearly 70% between 1995 and 2008.
Our enemy combatants in this battle are the high calorie/low nutrient convenience foods that bombard us at every turn--including at the airport. Searching for healthfully prepared foods that don't have all kinds of junk added to them, on the other hand, can feel as quixotic as looking to Rush Limbaugh for insightful commentary. I wouldn't need to bring my own breakfast to the airport if the food vendors there offered fresh organic fruit and yogurt that didn't have tons of added sugar. But the big food and beverage companies put that sugar there precisely because they know it triggers cravings.
So what do you do when you've got a whole nation whose tastebuds have been corrupted by sugary, fatty, salty processed convenience foods? How do we fight back against the relentless--and shameless--marketing of all that crap to children? David and her recipe guru Kirsten Uhrenholdt offer quick, clever ways to whip up wholesome foods and drinks that are as addictive as the 'hyper palatable' processed stuff we're hooked on, but oh-so-much better for you.
Plus, there are chapters filled with invaluable tips on herbs, spices and more adventurous ingredients, how to cook and shop, how to turn picky eaters into happy campers, and how to plan ahead, just a little, so you can fling a healthy meal together on the fly when you're tempted to fall back on take-out.
David delivers these recipes and resources in a funny, chatty style that might remind you a bit of her former spouse, Seinfeld co-creator and comedic genius Larry David (minus the mock misanthropy.) The book features the work of another creative genius,
stellar photographer Quentin Bacon,
whose gorgeous photographs--many taken on the organic farm David shares with her current spouse, a part-time shitake farmer--bring the recipes to earthy, elegant life.
Speaking of Bacon and shitakes, check out the 'shitake bacon' on page 96; this recipe alone is worth the price of the book. Those crispy little bits of mushrooms would surely go well with a million different things, but I'll never find out because they're so unbelievably bacon-like that I end up eating them all straight off the baking sheet.
Other favorites in our household: roasted sweet potato fries, caramelized broccoli and cauliflower slivers, kale chips, crispy roasted brussels sprouts, the 'seeds of power' granola, banana muffins, rainbow salad with carrot miso dressing, and the ingenious ravioli 'cupcakes.' The emphasis is on fruits, vegetables, nuts, whole grains, poultry, fish, diary and eggs. There's no red meat, but David and Uhrenholdt aren't afraid to call for a little butter or sugar if the recipe warrants it. Some ingredients (chia seeds, miso, etc.) aren't pantry staples in your average American household (yet), but the recipes are refreshingly un-trendy, easily modified, and downright old-fashioned in their simplicity, reflecting David's "nothing fancy, nothing fake" ethos.
The Family Cooks'
subtitle boldly proclaims its intent to fight fire with fire: "100+ Recipes to Get Your Family Craving Food That's Simple, Tasty, and Incredibly Good for You." Can these fearless roasters-of-veggies-with-a-vengeance take back our nation's tastebuds? Make the summer porridge recipe for yourself, so you can tell those TSA officials they were right; this stuff is
Dy
-No-
Mite
:
Fresh, Fruity Summer Porridge
(makes 6 servings)
PREP TIME: 15 minutes CHILL OUT TIME: overnight
Summer porridge? It may sound like an oxymoron, but this hearty mix of raw oats, yogurt, and fresh fruit is cool and tangy. Spoon it into pretty glasses or mason jars, pop them into the fridge, and let chill overnight so the oats soften and all the flavors get to know each other. The next morning, enjoy breakfast in the sun, or just tuck a jar to go into your pocket--or into little hands--if time is tight.
1 cup old-fashioned rolled oats (not "instant")
3 cups plain yogurt (whole or low-fat) or kefir
3 tablespoons honey or maple syrup
2 large apples (not peeled), grated
1 cup mixed fresh fruit, such as sliced kiwi or strawberries, raspberries, blueberries, or blackberries (save a little extra for garnish)
1. Combine the oats, yogurt, honey, apples, and mixed fruit in a bowl, making sure that the apple is completely folded into the yogurt .
2. Divide the porridge evenly among six 8-ounce glasses or mason jars, cover tightly with wrap or lids, and refrigerate overnight. Have a good night's sleep.
3. The next morning, as the sun rises, garnish the porridge with more fresh fruit and call the troops to breakfast.
Reprinted from "The Family Cooks" by Laurie David. Copyright (c) 2014 by Hybrid Nation Inc. By permission of Rodale Books. Available wherever books are sold.