In New Orleans the elegant and the decadent live side by side and relish their need for one another.
Before I left for New Orleans I was telling friends and neighbors of my plans.
"Are you going to Eat at Mother's?"
"I bet you can't wait to taste some Jambalaya."
"There's a place on Bourbon where you can get a Hurricane and next door some Sweet Potato Fries just covered in powdered sugar, please have it for me."
No, No, a thousand times no.
New Orleans is guilty of feeding some garbage food to tourists and the tourists are guilty of loving it and going all over the internet screaming the authenticity of the overpriced Jambalaya they had on Bourbon Street. I once wrote about the
bad food
done in New Orleans name outside of New Orleans. The bad food has also infiltrated the Quarter.
Here are a few common sense tips to eating in New Orleans.
If the sign says 'voted the best" or "authentic" run away.
Most of the places guilty of food fraud are in the quarter, there is even a place in the French Market offering 'authentic Cajun Tacos.'
There are exceptions like
Galatoires
,
Johnny's
and
Central Grocery
however you should do most of your dining outside of the quarter.
My first night I was out on Loyola and decided to walk towards the quarter. I had no destination in mind. I stopped into the
Old Roosevelt
and got a glass of wine and a plate of broiled yosters with tarragon and garlic butter. It was served with the soft French Bread New Orleans is Famous for.
This hotel has several dining options, not all recommended, but the Fountain Lounge has wonderful food.
The next morning I had a light breakfast at
8 Block
in the Hyatt on Loyala. The light fare has more than enough food and excellent smoked fish and fruit along with strong coffee gave me a great start.
I did not want to eat too much, as a friend was picking me up in a few hours to go to
Elizabeth'
s out on Gallier. Chef Byron Peck presides now that Heidi Trull has moved on to
Grits and Groceries
in South Carolina. I am happy to say the food is still great.
I had Shrimp and Grits with a Tasso and Leek Gravy and my friend had Grillades and Grits, of course we traded tastes and both were excellent. I regret to say this place is now on the tourist map and there is always a wait. I am pleased to say the wait is worth it.
I do not recall what I ate later that day so I've no place to recommend nor to warn you against. The truly bad is always memorable. I suspect I had oysters as I had them each day of my trip. Oysters are always good, but the preparation is not always memorable.
Sunday morning I was up VERY early and took a walk through the quarter while they cleaned up. All of the streets are swept and washed daily, despite the plentiful garbage cans people can be pigs, and often are.
Nothing was open save the
Clover Gril
l, despite the claims of 'best' I went in. How bad could breakfast be?
The waitress cheery, the coffee good and I sat waiting for my biscuits and gravy. What arrived was a sad, hard biscuit topped with a gravy flavored less with sausage, as is custom and tasting mostly of salt. I ate a bit of it, and it was memorable. Memorably bad. I suspect they rely on the customers being drunk at their location and 24 hour status attest to that. Do not eat at Clover when sober.
Dinner that night was one of the best meals ever. Friends and I ate at
Luke
where small plates rule.
The three of us shared baked Oysters, Chicken Liver and Rabbit Pate, and several plates of Pork Belly with grilled plums and Brussels Sprouts. This along with a reasonably priced Cabernet led do an amazing night of eating.
The next day I tried Lil Dizzy's Cafe. I can only guess those who are all over the net proclaiming it the best Fried Chicken ever are from Minnesota. The chicken had no spice and was almost flavor free. The Seafood Gumbo had a very tasty base, a lot of good sausage and one lone shrimp.
However one dish won me over, the Red Beans. They were creamy, flavorful and studded with bits of smoked ham hock. If you are in the Treme and hungry just get the red beans, skip the bland buffet and enjoy some of the best read beans I have ever tasted.
This was not to be a day for culinary winners as my Roast Beef Po Boy at
Parkway
was really bad. The beef, rather than soaked in the gravy was kept warm separately and was dry and tough. The gravy had no discernible flavor. For the first time in my life I added salt at a New Orleans eatery. Even that did little, so after a few bites it was abandoned.
The next night however made up for everything.
Cochon
Mushroom Salad with Fried Beef Jerky, Oysters, Smoked Ribs,Gumbo, and possibly the best Lima Beans I have ever tasted.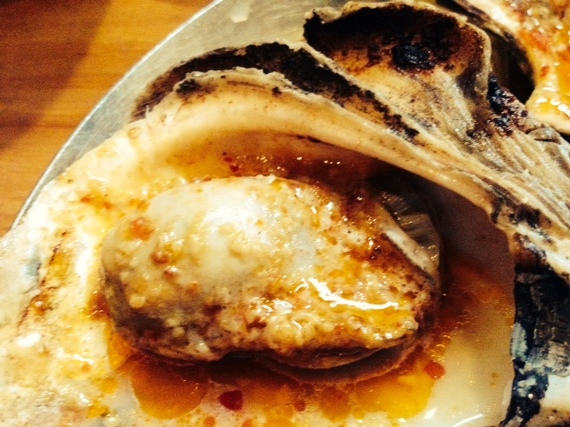 They even carried Original Sin Hard Cider to complete my experience. As is the custom, I was stuffed.
Each day I worked out at
New Orleans Athletic Club
. They are very generous about extending guest memberships to those from out of town. (For a small fee, of course.) The space is stunning and I am hoping that they will go forward and re-open the restaurant. They were at the forefront of dining at one point in their history and their Split Pea Soup and Trout are legendary among the older members. They've enough space to move the cardio out of the former Ladies Dining Room and restore the kitchen simply by moving some storage. Many of the hotels once again have great dining within and I can just imagine the parties that can be held in the Ballroom and Courtyard.
My final meal consisted of a Roast Beef Po Boy from the aforementioned Johnny's. The meat was sliced thinly and soaked in a flavorful gravy. The mayo slathered as it should be and the bread crisp/soft. The bread soaked with gravy, caused a mess in my hands and yes, I actually licked my fingers.
I purchased a Muffaletta for my journey home, the smell of which caused fellow passengers to glance or even stare with envy. My travel bags were stuffed with cured meats and pickled pig lips. (Don't laugh they make an amazing salad dressing.)
Home safely, I have thus far consumed a pear and coffee and it is afternoon. I suspect I will live off of stored calories and memories for the rest of the day.