Note: Do not read on if you have not seen Season 5, Episode 10 of FOXs "MasterChef," titled "Top 12 Compete."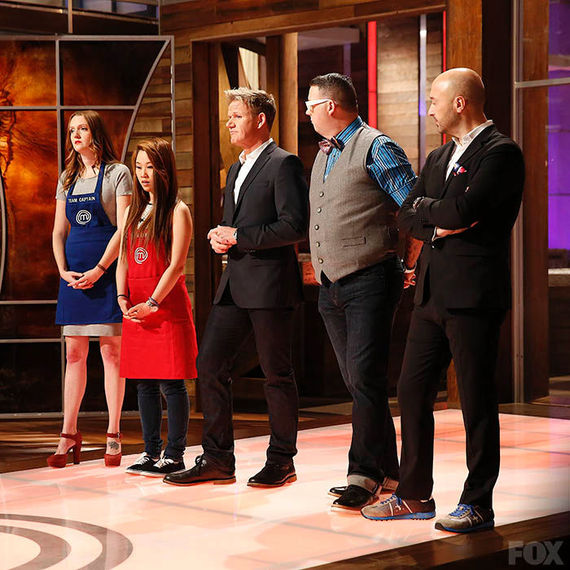 Hey, guys? Can someone tell my future mate to not propose to me on an episode of 'MasterChef'
with scary Joe Bastianich lording over it all
? Cool, thanks.
So tonight was all about romance and two teams -- with Ahran and Elizabeth at the helms -- had to cook for a bunch of couples. And Gordon Ramsey's wife, who was wearing delectable yellow heels that made even Courtney gape in awe.
One team makes a lobster risotto. The other makes a sexy, yet undercooked, filet mignon. For dessert, they sort of look the same. Strangely, Leslie and Ahran make amends. Elizabeth keeps her cool plating goofy bowls of strawberries. Everything sort of goes smoothly. The Blue Team -- with Elizabeth and Courtney and other front runners win. Christine, Cutter, Ahran, Leslie, Willie, and Christian have to make a bunch of truffles for a pressure test. Uh-oh.
Willie and Christian have no idea what they're doing. Leslie's rambling about throwing sexy truffles into his wife's mouth. Yes,
throwing
. Cutter doesn't even know what a truffle is. It's not going to be easy.
Strangely, at the end of the test, they all look sort of OK. I would have no idea where to start (or I would just start licking the chocolate whipping bowl). Cutter actually comes through with dainty looking truffles. Gordon and the other chefs bust on him, but he's officially rebounded. Christian has some tasty sounding truffles. Willie uses too many sprinkles. Ahran gets a grunt from Joe and that's it. Leslie's look like they would give his wife a concussion if he threw 'em at her. Christine goes classic on flavors. Sea salt and dark chocolate? Yes, please! But they're also fugly.
The case of reality show producers calling the shots won in the end. Leslie is good drama. Christine just busts her butt and wants to win. I'm sort of bummed because I was hoping she was the underdog in this competition.
What were your favorite moments this week? Who's next? Let me know
@karenfratti
or in the comments.
"MasterChef" airs Mondays at 8 p.m. ET on FOX.