Creativity is key -- especially in graphic design.
That's why one graphic designer in Canada sought to separate himself from other recent graduates by printing his
resume on a pack of beer
.
Brennan Gleason
, of British Columbia, was finishing his studies at University of the Fraser Valley earlier this year when he was given an assignment: Create a work of self-promotion. Since Gleason would be graduating in a few months, he wanted to make the most of the project and decided to create a non-traditional resume that would give potential employers an idea of who he is and what he enjoys in life — like brewing beer.
"At the end of our program, everyone is obviously looking for jobs in the industry. So, I used that to my advantage," the web and graphic designer told The Huffington Post. "I sent about three of them out to places I knew I really wanted to get a job at and ended up getting a few offers right away."
To create his "
Résum-Ale
," Gleason spent about seven weeks brewing a blonde beer. During the process he created labels for each bottle — which featured a snippet from his portfolio and accompanying QR codes — and designed a concise version of his resume for the box.
(Story continues below)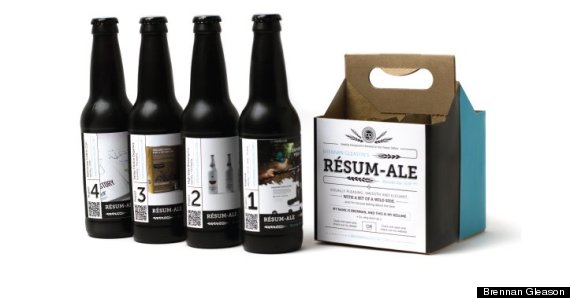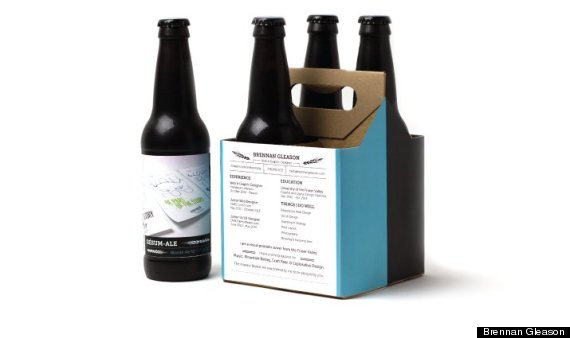 After he sent out the unique resume to several design firms in Vancouver and received a few offers back, he decided to accept a job at
Techtone
as the digital marketing agency's creative director.
While Gleason admits that using a pack of home-brewed beer as a resume would likely not work in other industries, he doesn't think the alcohol alone was what got him hired.
"I think it's mostly just because it's different from a traditional resume," Gleason told HuffPost. "As designers, we're always trying to show off our creativity. That's the first impression these companies see."
In Gleason's case, his first impression was pretty smooth.