Newsflash: Summer is almost over. And if you haven't spent some time on a boardwalk yet, we suggest you start planning your next trip stat. The season is not complete without one relaxing day strolling around those wooden planks, taking in the beach views, and most importantly, eating some delicious food.
You could say that boardwalk foods are the ultimate indulgence. They're usually fried and either extremely salty or extra sweet. But what better way to celebrate summer than with a hot dog after an ocean swim or some frozen custard to cure you from the sweltering heat?
Since there are only a few weeks left, we thought we'd ask everyone we know and scour the web to find you the best of the best when it comes to boardwalk food, so you know which treats to seek out. Behold, the 19 boardwalk foods you just have to try.
1. Caramel Corn From Dolle's Candy In Rehoboth Beach, Delaware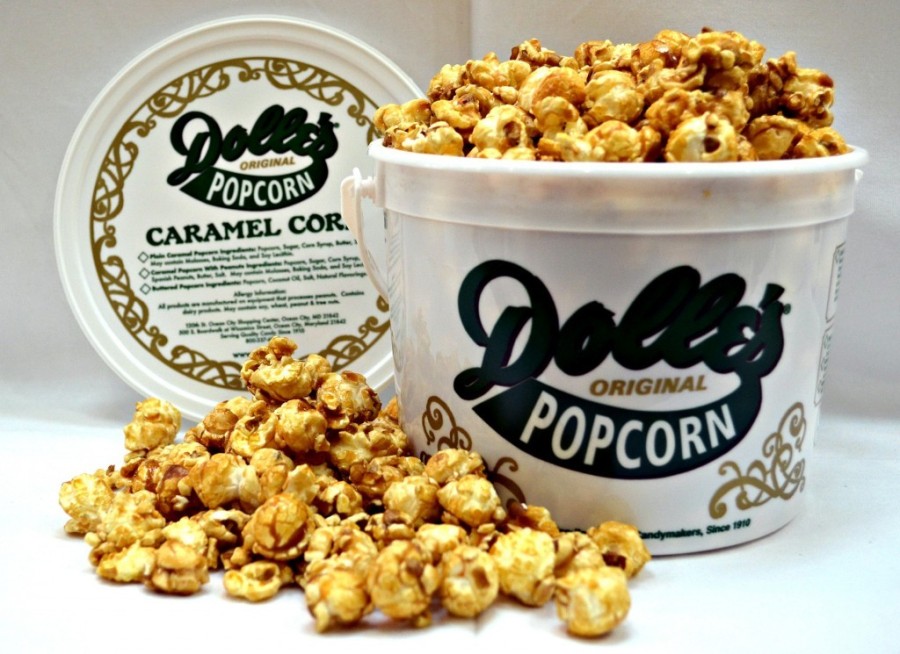 For a little over five dollars you get a gallon (!) of the most succulent and sticky caramel corn ever. Dolle's has been making their corn with Spanish peanuts, salt, caramel and butter
since 1910
.
2. Fries From Thrasher's In Ocean City, Maryland
Once you read
the steps on how these fries are made
your mouth won't be able to stop salivating. First, they fry them in peanut oil. Then they fry them again. Then they sprinkle a good amount of salt on them. And, finally, here's the kicker: They douse them in apple cider vinegar.
3. Chocolate-Covered Bacon From Marini's Candies In Santa Cruz, California
This boardwalk staple combines two favorite foods: chocolate and bacon. Joseph Marini III, the fourth-generation candy maker who has been selling the bacon goodies at the Santa Cruz Boardwalk,
credits his success to the fact that he makes sure the bacon is always very crispy
before covering it with chocolate.
4. A Hot Dog From Peaches Corner In Myrtle Beach, South Carolina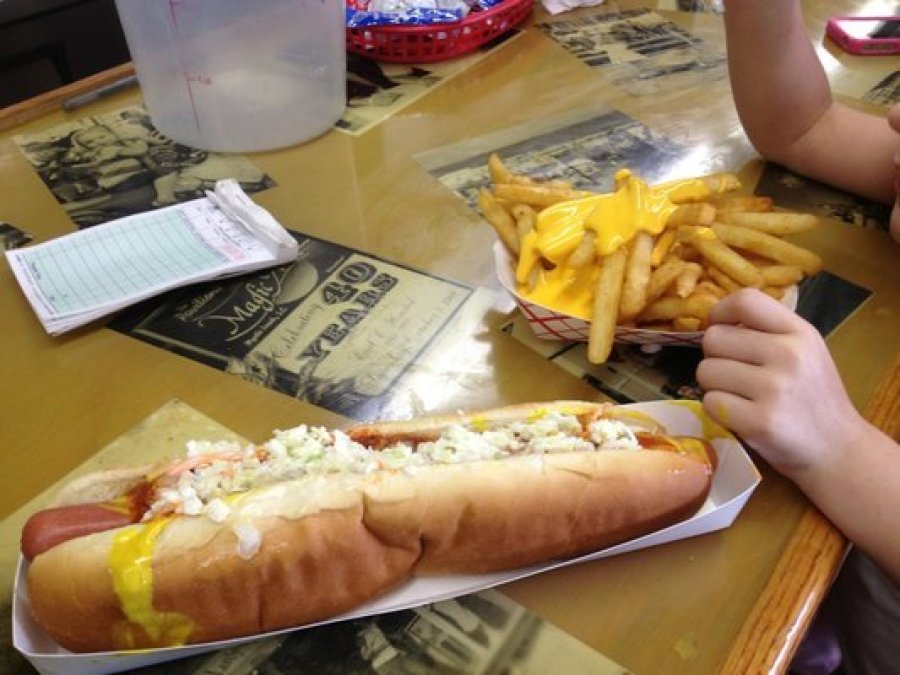 It has been a neighborhood tradition since 1937
to grab some grub at Peaches Corner. The hot dog is one foot long and oftentimes wrapped in bacon.
5. Fish Tacos From Rockaway Taco In Rockaway Beach, New York
It's safe to say that no trip to Rockaway Beach is complete without waiting in line at this eponymous taco shack and chowing down on some perfectly crispy-on-the-outside-yet-moist-on-the-inside fish tacos. It's simply a New York City summertime must.
6. Donuts From The Fractured Prune In Ocean City, Maryland
You get to select which glaze and toppings you want
on your donut (or donuts) and then you get to watch your beautiful creation get made by the donut wizards at the shop. Oh, and did we mention the flavors and toppings are awesome? You can choose from key lime, mint and mixed berry glazes and you have the option of topping those with graham crackers, marshmallows and even crumbled bacon.
7. Fried Artichokes From Surf City Grill In Santa Cruz, California
Artichokes are probably one of the most unique foods one could fry, and Surf City Grill fries theirs in a special secret batter which includes garlic that
they source from the nearby town of Gilroy
.
8. The Lobster Roll From Bayley's Lobster Pound In Scarborough, Maine
According to legend
, Bayley's is the place where the original "Maine style" cold lobster roll was invented. The roll comes to you on ungrilled bread that is filled with a mix of both claw and tail meat lightly coated in mayo.
9. Orange-Vanilla Custard From Kohr Brothers Down The Shore
Who
doesn't
love a classic Creamsicle? The answer is no one. And Kohr Brothers makes the orange and vanilla custard mix perfect every time. There's nothing like strolling down the boardwalk on a sticky night while trying to eat your Kohr Brothers' custard as fast as possible before it melts all over you.
10. "Dodge Balls" From The Alumni Grill In Wildwood, New Jersey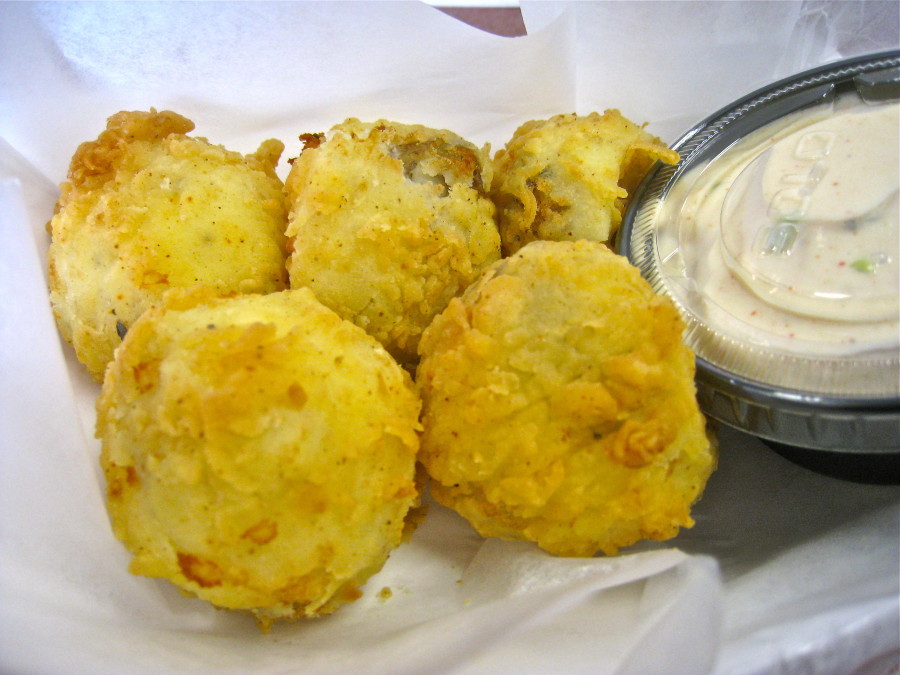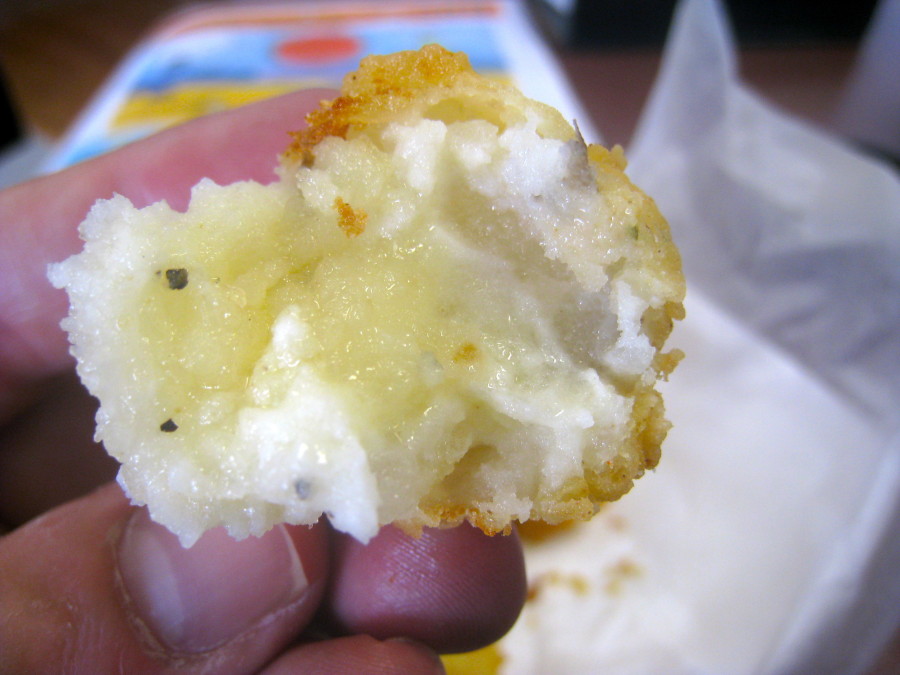 Photos by Adam Kuban
One
could
say that these little balls are the perfect
stoner
college student munchie food. "Dodge balls" are
deep-fried mashed potato balls
served with a sweet honey-jalapeño dipping sauce.
You know you want it.
11. The Short Rib Tacos From Taco Beach Shack In Hollywood, Florida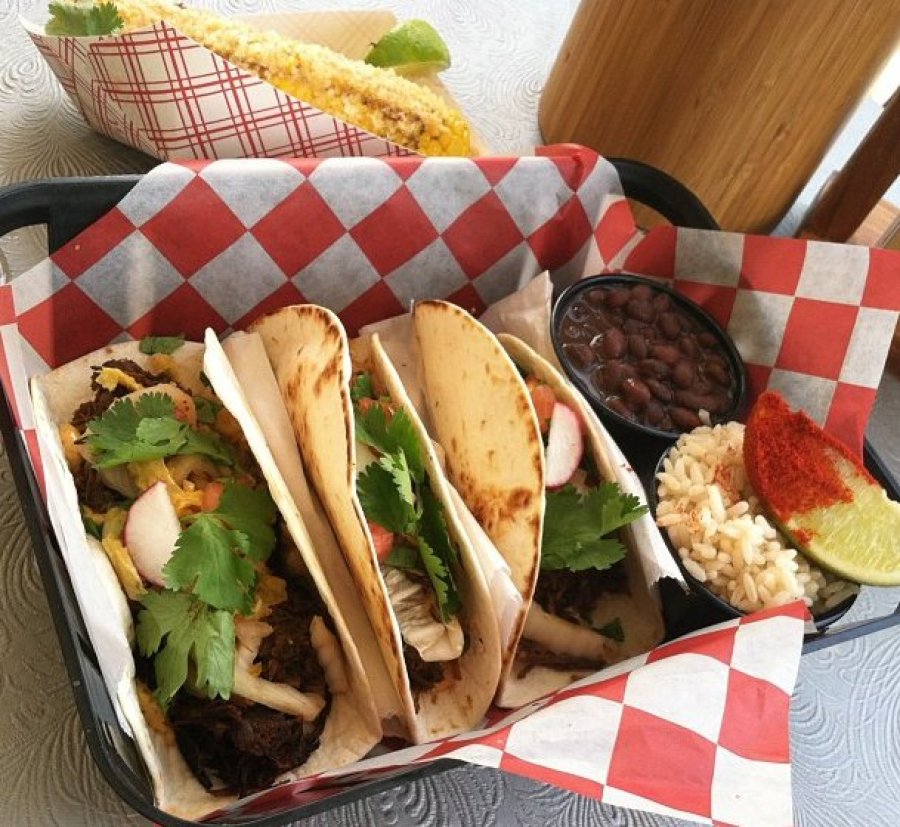 For some unconventional yet totally tasty beachside eats, check out the Taco Beach Shack on the Hollywood Boardwalk. Their most popular item is the taco combo -- more specifically the Korean short rib taco combo. Three tacos are topped with kimchi slaw and served with rice and beans and roasted Parmesan corn. It's the Mexican-Korean fusion food you never knew you needed.
12. Salt Water Taffy From Shriver's In Ocean City, New Jersey
According to Lisa Glaser Whitley, the executive vice president of sales and marketing for the James Candy Co., the company sells close to
600,000 pounds of salt water taffy a year
.
13. A Corndog From Jane's Corndogs In Newport Beach, California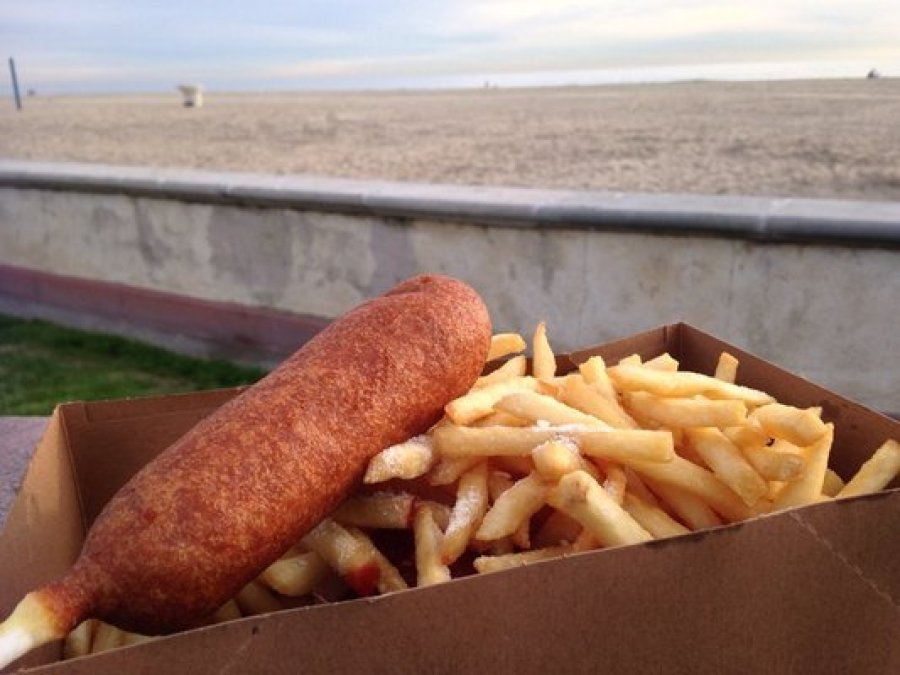 It was California who cheekily came up with the idea of the "hotdog on a stick" (which, if you ask us, is a very smart idea). You may want to call it a corndog, and hey, Jane's Corndogs will happily oblige your whim as they serve you one of their famous dogs right out of the fryer.
14. Fudge From The Fudgery In Myrtle Beach, South Carolina
At The Fudgery, not only will you eat some of the best melt-in-your-mouth fudge, you'll also have one hell of a good time. When you enter the shop,
employees sing to you
and beg you to try a free sample of the famous fudge.
15. Sandwiches And Smoothies From Greenman Juice Bar & Bistro In Rehoboth Beach, Delaware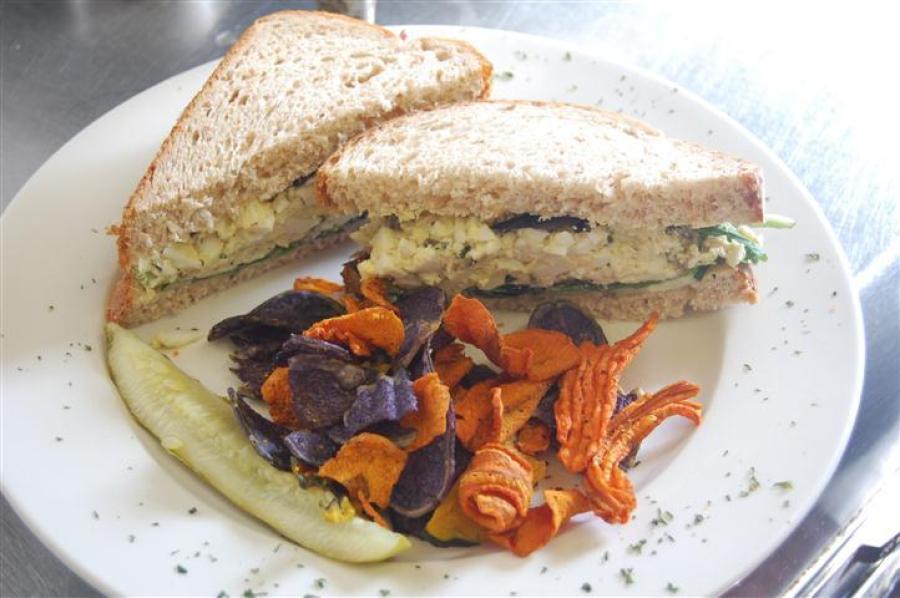 After all the fried food and sweet treats, sometimes you just need something healthy to cleanse your system. And thankfully, Greenman Juice Bar & Bistro makes sure their healthy breakfast and lunch items are also totally delicious. If you still feel like indulging, we suggest you go for breakfast and
try their famous "Creme Brulee French Toast."
16. Italian Sausage From Jodi Maroni's Sausage Kingdom In Venice Beach, California
There are
five main sausages
that everyone must try at the famous Jodi Moroni Sausage Kingdom: the andouille, the chicken apple, the bratwurst and, of course, the hot and sweet Italian sausages.
17. Churros From The Churro Factory In Chicago, Illinois
Nothing beats eating the best crunchy-yet-chewy churro in Chicago while taking in the views of the city from the Navy Pier. Plus, the factory is conveniently located smack dab in front of the famous ferris wheel!
18. Stone Crab From Billy's Stone Crab In Hollywood, Florida
Just because you're on a boardwalk doesn't mean you can't get a little fancy. At Billy's, you get to sit on the dock and feast on fresh-caught Florida crabs and fish as you take in the beautiful Intracoastal view.
19. A Hot Dog And Fried Clams From Nathan's In Coney Island, New York
For some people, America's boardwalks = Coney Island = Nathan's and his famous hot dogs. While the hot dog is a classic, you should also check out their newest addition: the clam bar. Why? Because Nathan's can do no wrong, especially when those clams come with wine.
Want to read more from HuffPost Taste? Follow us on Twitter, Facebook, Pinterest and Tumblr.