Nine years ago, Nicolle Crist and Rich Gallagher decided they'd had enough of city life.
Both were born and raised in Philadelphia and until 2005, neither of them had ever considered leaving. But after returning home one afternoon from a failed attempt to attend a concert downtown, they wondered whether the benefits of city living justified the constant drain on their time, money and energy. These musings prompted the couple to take a trip through Middle America, where they discovered a pace and style of living that suited them far better than the frenetic metropolitan setting. Less than a year later, they left Pennsylvania for a small town in Tennessee and have since found the peace and security missing from their previous life.
The two met at a mutual friend's party in 2003. Nicolle was working as a marketing manager, and Rich was a prototype mechanic for a plastics company. Within a matter of months, they'd moved in together. But while they were able to cover rent and basic necessities, they felt squeezed by the high cost of living and their lack of job security.
"Even with two incomes and no children, we were still living paycheck to paycheck," Nicolle told The Huffington Post. "And even if we were getting good reviews on our job, you could still be laid off at any time."
Life outside of work added to the couple's uneasiness. Their rented loft was in an up-and-coming neighborhood, but the surrounding area was unsafe, and the vaunted perks of living in a city environment always seemed out of reach.
"Unless you're super-successful, you can't live in a safe neighborhood and pay rent and go out and do things," Nicolle said.
Their search for an affordable home wasn't encouraging either, as area prices would have forced them to "mortgage [their] lives away."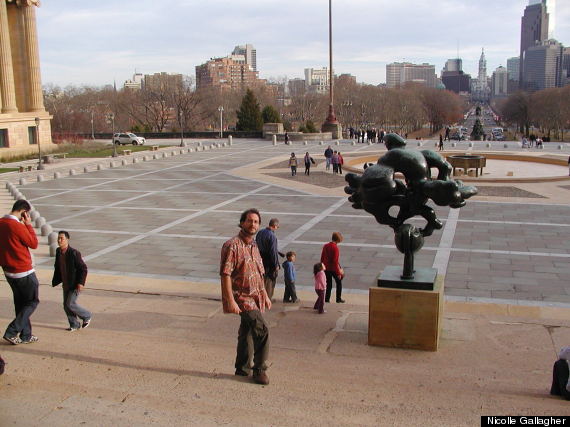 Rich in front of the Philadelphia Museum of Art with the Benjamin Franklin Parkway behind him, where densely packed crowds gathered for the Live 8 concert in 2005.
In July 2005, a stark example of the city's challenges finally pushed them to explore other options. Nicolle and Rich had planned to attend an outdoor concert in front of the Philadelphia Museum of Art, but when they encountered horrible traffic and "the general hassle of a billion people trying to get to the same place at the same time," as Nicolle put it, they turned around in defeat.
Back at home, Nicolle picked up a magazine to distract herself. As she flipped through the pages, an article on a small Kansas town caught her attention. The article got Nicolle and Rich talking about what life would be like in rural America. A few weeks later, the two embarked on a brief tour of Tennessee, Arkansas and Oklahoma.
The trip proved transformative, as the two of them were able to experience firsthand a lifestyle dramatically different from the one they knew. Once back in Philadelphia, they began to seriously plan a move.
After several months of researching cities and properties, they settled on Dresden, Tennessee, a town of about 3,000 in the middle of the state. They packed up their belongings and moved almost 1,000 miles to their new home. Their cottage in Dresden was about half the size of their old loft, but it sat on 26 acres where Nicolle and Rich planned to start their own organic farm.
As Rich learned the ins and outs of farming, the couple drastically cut their spending and began working in earnest toward their goal of owning their home. Changing their consumption habits proved much easier in a small-town setting, away from the pressures and opportunities for frivolous spending that are only found in big cities. They passed on purchasing the latest phones and tablets, made do with a 15-year-old car, did less clothes shopping and started cooking at home more often.
"In Philly, you could basically spend money 24 hours a day," Nicolle said. "Now, it's really not as much of a temptation."
Rich picked up farming quickly, and the two are now the proud owners of Hidden Hill Farm, where they grow okra, squash, cucumbers, cabbage, garlic, tomatoes and more. They have a "good customer base," Nicolle said, and run a successful
CSA
, where customers purchase vegetables in advance through a subscription-style service. Nicolle and Rich married in 2010, and they've succeeded in becoming the full owners of their home.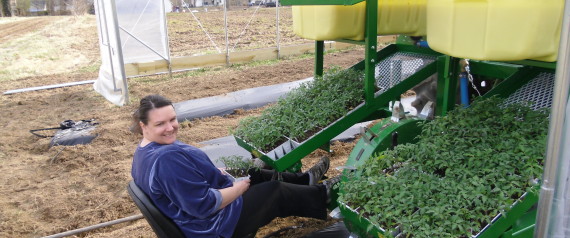 Nicolle operating the water wheel planter on the couple's farm in Dresden.
Though it was a challenge at first to change their lifestyle, Nicolle says that in hindsight, the adjustments don't seem too drastic. And the payoff has been worth it.
"I feel completely liberated and empowered," she said. "Rich isn't 40 yet and he owns his home. We have a level of security that we never felt in Philadelphia."
After almost nine years, it's clear the Gallaghers have found a place where they belong.
"I like the space, the sounds, the stars ... I can see the curvature of the earth," Nicolle said. "I hear tree frogs and see birds that I never saw before, that I never knew existed. I can spend the rest of my life out here and never learn it all. We like to visit the city now, but I would never live there again unless I absolutely had to."
If you or someone you know is taking steps to live a life that's simpler, saner and more fulfilling, we want to hear about it. To submit a Letting Go nomination, email [email protected].