While Brazil is garnering attention these days from soccer fans worldwide, Chile is quickly building a fan base of its own. Long recognized for the quality of its seafood and agricultural products, The International Organization of Vine and Wine believes that Chile is establishing a formidable wine-producing reputation. Relying on over 450 years of experience, Chilean wine making expertise was on display when the Conrad Hotel on Brickell Avenue in Miami served as the U.S. stop for the Chilean Wine Tour as part of its summer tour.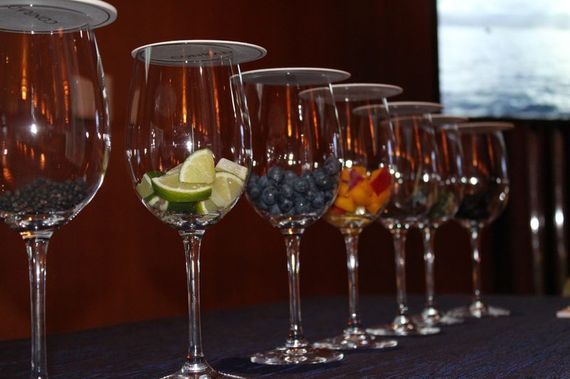 PHOTO CREDIT: Joshua Estrin
Sponsored by ProChile, an institution of the Ministry of Foreign Affairs of Chile, the Tour seeks to educate anyone new to this region's wine and help Chile achieve its goal of becoming an influential wine producer as well as bolster recognition and acceptance of quality Chilean wines.
Approximately 15 Chilean wineries were on hand to provide knowledge and most importantly sampling opportunities of their vintages. Benefiting from a temperate Mediterranean climate and vast range of soils from the Andes Mountain Range the wines reflect a unique blend of climate and soil infusing them with intense colors, fruity natures, and delicate bouquets. The variety of wines was extensive, including Carmen ere, made from Chile's signature deep, dark grape; an excellent pairing with red meats, corn-based dishes, and Indian curry. As well as the star grape that creates an excellent Cabernet Sauvignon, offering rich berry, black currant and fig flavors.
Not without her white wines, the event offered attendees the opportunity to tease the palette with a zesty Chilean Sauvignon Blanc sporting aromas with hints of citrus, pear and green apple, making it the perfect summer wine. Chile also produces an impressive Chardonnay, with a moderate amount of acidity, that goes well with fish and white meats, a full-bodied Riesling, and an aromatic Viognier. The event also included a seminar entitled "Chile, Land of Diversity," led by Master Sommelier Fred Dexheimer and winemaker Santiago Margozzini.
Chile is gaining worldwide recognition for its wine, exporting $287 million worth of its wine to the U.S. as part of a $1.8 billion worldwide trade last year. With only 8 percent of worldwide wine exports, Chile is quickly gaining critical acclaim for the quality of its wines. From casual to formal, the wines of Chile are a perfect way to explore the country poolside or table side one delicious bottle at a time.