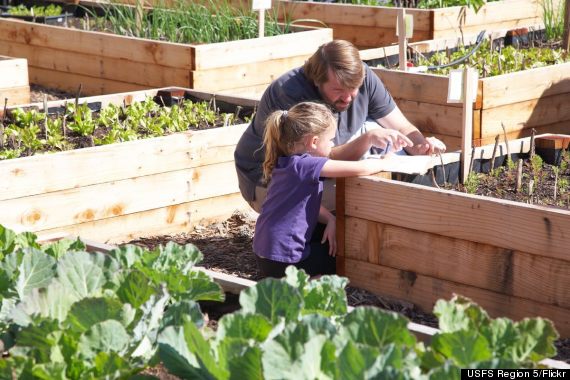 A father shows his daughter sprouts at the Vallejo People's Garden in California. (Photo: USFS Region 5/Flickr)
This story originally appeared on Mother Nature Network.
It hurts when your stomach is empty. Across the land of plenty that is the United States, 49 million people in 17.6 million households
feel that pain
.
The almost 18 million homes with no food, an insufficient amount of food or a lack of healthful food represent 14.5 percent of all U.S. households, according to U.S. Department of Agriculture statistics for 2012. The USDA has a name for this aspect of hunger:
food insecurity
.
Food insecurity means that a household is uncertain of having, or is not able to acquire, enough food to meet the needs of all of its members because of insufficient money or other resources. These households are present in every state and most communities across the U.S., especially in rural areas.
It doesn't have to be this way, says USDA spokesperson Wendy Wasserman.
"There are at least three resources that gardening enthusiasts concerned with
eliminating food insecurity
should know about," Wasserman says.
These resources connect everyday gardeners and volunteers and the food they grow or collect with food banks and pantries. The USDA supports two of these resources and partners with the third.
One resource is the USDA People's Garden, a collaborative effort of more than 700 local and national organizations that establish community and school gardens across the country and donate food to the needy.
The second is the USDA Guide to Gleaning, an online toolkit that helps people
collect excess fresh foods
from farms, gardens, farmers markets, grocery stores, restaurants, state/county fairs or other sources and provide it to those in need.
A third resource, Wasserman said, is AmpleHarvest.org, A USDA partner nonprofit that helps the 42 million Americans who grow fruit, vegetables, herbs and nuts in a home garden find
local food pantries
where they can donate their harvests.
If you would like to help alleviate food insecurity in America, here is a guide to creating a People's Garden with like-minded neighbors, tips on collecting excess food, and an online search function for locating food banks or food pantries in your area that accept donated food and distribute it to those in need.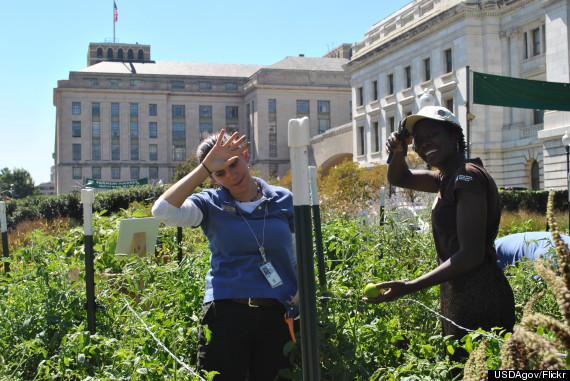 Volunteers harvest from the Headquarters People's Garden, in Washington, D.C., every Tuesday. (Photo: USDA/Flickr)
People's Garden
The USDA launched the
People's Garden
initiative in 2009. The name honors President Abraham Lincoln's description of the USDA, which he created in 1862, as the "People's Department."
The original goal of the
2009 initiative
was to challenge USDA employees to create gardens at agency facilities. Since then, local and national groups have embraced this concept and established community and school gardens in all 50 states, three U.S. territories and eight foreign countries.
People's Gardens exist in every shape and size imaginable, but the USDA requires that all of them share three common characteristics: They must benefit the community by creating a recreational space or providing harvest for a local food bank or shelter, they must be a collaborative partnership of local people or groups, and they must incorporate sustainable practices.
Although People's Gardens are most often established as vegetable gardens, they can also be created for beautification, as
wildlife habitats
or for other purposes as long as they meet the three criteria noted above. The USDA invites workers at all People's Gardens that produce food to donate their harvests to those in need, but makes this an official requirement if the garden is on property owned or leased by the USDA.
Existing garden community or school gardens can
gain the People's Garden designation
as long as they meet the USDA's requirements. Home gardens are not eligible to become a People's Garden.
As of May, volunteers have contributed 211,884 hours to 2,014 People's Gardens across the country and beyond. Their efforts have produced at least 3.8 million pounds of produce.
If you would like to volunteer at a People's Garden, you can
find out if there is one in your community
by visiting the People's Garden website and entering your city and state.
For questions about People's Gardens, contact Wasserman at
[email protected]
or 202 260 8023.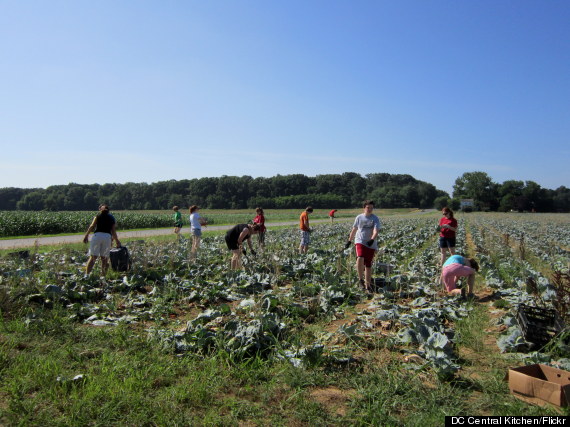 Gleaners make a second pass through a cabbage field in Maryland. (Photo: DC Central Kitchen/Flickr)
USDA Guide to Gleaning
Gleaning in this case refers to the simple act of collecting and
donating excess food
. If this is a practice that appeals to you, you won't have any trouble finding food to collect. Each year,
Americans throw away
more than 100 billion pounds of food, according to the USDA, which based its calculations on a New York Times article, "
One Country's Table Scraps, Another Country's Meal
."
Places to collect excess food include farmers markets, nearby restaurants, supermarkets, neighbor's gardens, community gardens, area farmers, state and county fairs and any other food sellers or distributors. Incentives are that donations are tax exempt, the
Bill Emerson Good Samaritan Act
removes all liability for food donations if donors take basic precautions to ensure the safety of food, and participating in food gleaning to serve those in need is an excellent way to promote a business.
The USDA has published an
online toolkit
to help you start a gleaning program in your community. The toolkit explains gleaning and its benefits in detail and offers a guideline on how to set up a program.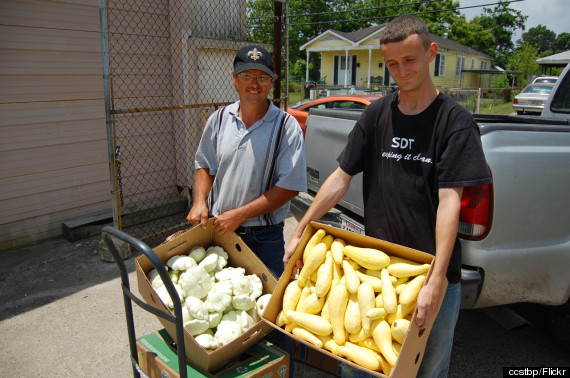 Farmers donate some their crops to a food pantry in Louisiana. (Photo: Billy Brown/Flickr)
AmpleHarvest.org
Now that you've grown or collected food to donate, how do you find a food bank or pantry to accept it? That's where
AmpleHarvest.org
comes in.
Ample Harvest is a 501(c)3 charitable organization that helps people find food pantries where they can donate surplus food and provides an online site where food pantries can register to help donors can find them. A
list of food pantries
is available online. You can also use AmpleHarvest.org's
iPhone
or
Android
apps to find a local food pantry when you are shopping. Food pantries can register on the website.
To help publicize its efforts, in addition to online search functions, AmpleHarvest.org offers fliers, newsletter articles and a media information page on its website. The site includes an FAQ that answers questions such as the difference between a
food bank
(large operations that deliver food to food pantries) and food pantries (walk-in facilities where families in need can go to get food).
No accurate statistics are available on how many food pantries exist in the United States. According to some estimates, there may be more than 40,000. Whatever the actual number, it is large — large enough for there to be one near you.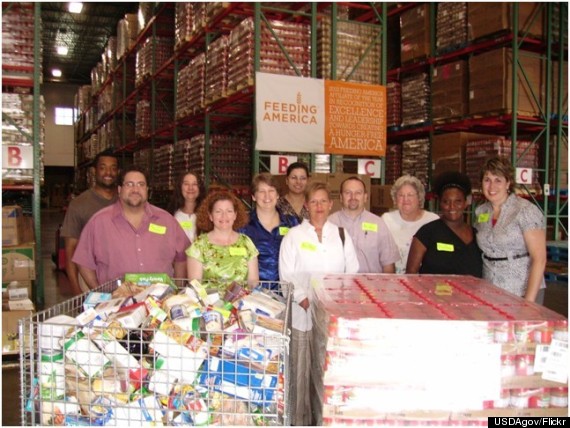 USDA employees in Tennessee visit their local Second Harvest Food Bank. (Photo: USDA/Flickr)
Other resources
There are other resources available to individuals and farmers who want to help alleviate hunger in America.
Feeding America
, the nation's leading domestic hunger-relief charity, seeks to feed America's hungry through a nationwide network of farmers and member food banks. A program called Invest an Acre encourages farmers across the country to donate a portion of their harvests to help fight hunger in their own communities. Also, 18 Feeding America member food banks have working farms or large community gardens that vary in size from half an acre to more than 100 acres and grow a wide range of produce depending on the community need.
In addition, Feeding America has a long-standing partnership with
Harvest for All
to use the bounty produced on the nation's farms and ranches. Through this nationwide program, the American Farm Bureau's Young Farmers and Ranchers donate food, funds and volunteer hours to help create a hunger-free America.
Plant a Row for the Hungry
is a campaign of the Garden Writers Association and the GWA Foundation. In this public service program, the GWA asks member writers and communicators to encourage their readers, viewers and listeners to plant an extra row of produce each year and donate their surplus to local food pantries, emergency kitchens and service organizations.
Separately, small farmers who may be averse to joining organizations can get in on the act by contacting
food banks in their area
or their local community-supported agricultural network about where and how to donate fruits, vegetables and herbs, or meats and poultry products for the hungry.