The days of a restaurant menu that reads more like a chapter book may soon be coming to an end.
As
foodie-ism
invades American culture, diners are looking for restaurants that excel at one thing instead of offering dozens of mediocre dishes. Fast-casual chains like Chipotle and Shake Shack, which make a small number of items well,
are flourishing
. Restaurants that have ballooned their menus in recent years, like
McDonald's
and
Olive Garden
, are suffering.
"The thought was if I load up my menu, I'll drive more people to the doors," John Chidsey, the former CEO of Burger King, said of restaurants weighing down their menus. "It just got so complicated in the kitchen, and the accuracy and the quality of what got made suffered," added Chidsey, now executive chairman of Red Book Connect, a technology company that helps restaurants become more efficient.
Restaurants are paring back their menus in response:
Menu sizes are coming down from their 2007 heights, according to Datassential: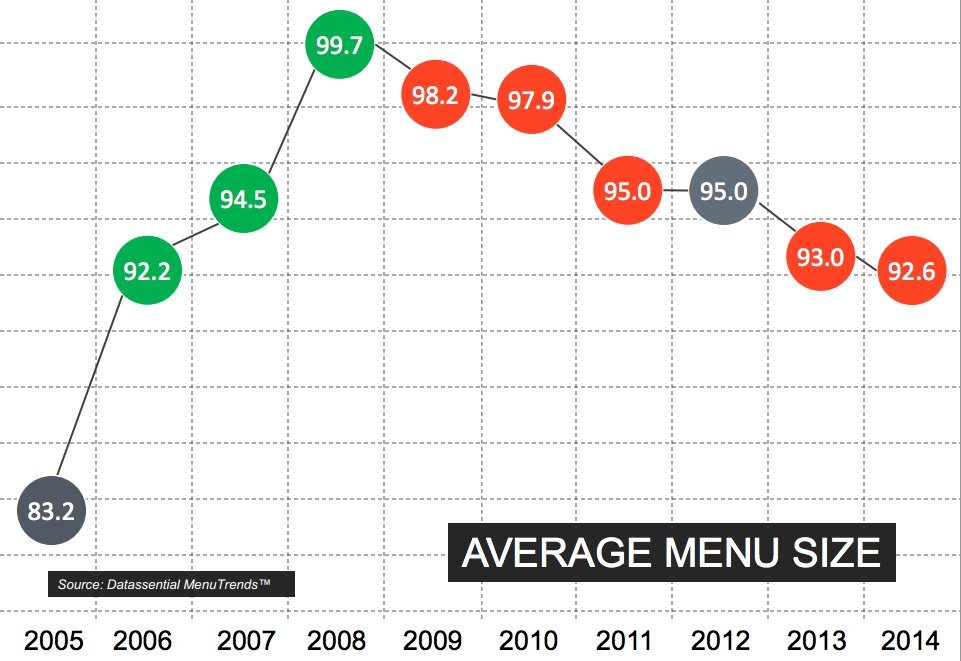 The success of these slimmed-down menus encourages new restaurants to limit their offerings to a few things that can be easily customized. In Washington, D.C., for example,
there are several independent eateries
that can be dubbed "The Chipotle of" Indian, Greek, Korean food and more, The Washington Post reported this week.
Michael Lastoria, the co-owner of &pizza, a restaurant where diners build their own pizzas, scoffed to WaPo that traditional menus "scream fast food."
The difference in average menu size at new restaurants and established restaurants, according to Datassential: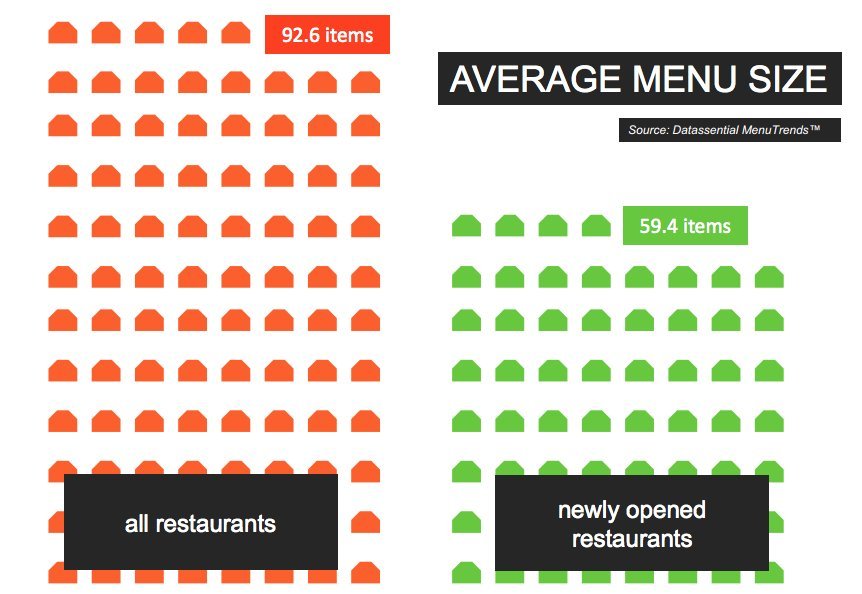 McDonald's executives
admitted in January
that the burger chain's menu had grown too complex, making it hard to serve food as quickly as people expect. From 2006 to 2013, the chain's menu mushroomed from 86 to 107 items, according to research firm Datassential.
"We overcomplicated the restaurants," said Tim Fenton, McDonald's chief operating officer, on a conference call with analysts in January. "If you remember, we introduced McWraps, we introduced Egg White Delight, we introduced Quarter Pounder Toppers and really didn't give the restaurants an opportunity to breathe."
Along with complaints about breadstick temperature and unsalted pasta water, investment firm Starboard Value
criticized Olive Garden's menu strategy
in a scathing 294-page presentation last week. Starboard argued that slimming down the menus at chains owned by Darden Restaurants, Olive Garden's parent company, could save $10 million to $15 million a year. Starboard also said the complex menu increased the risk of errors and required too much training for cooks and servers.
Starboard slide on Olive Garden's menu strategy with a customer complaint circled in red: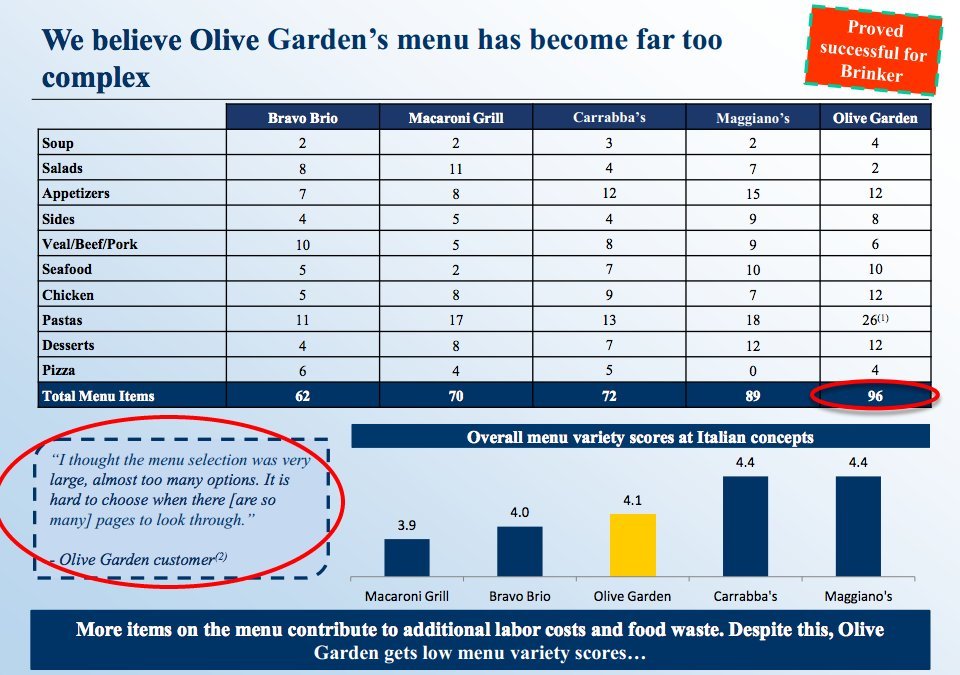 Darden Restaurants, the parent company of Olive Garden, defended its new menu
in a report released Monday
, arguing that it offered diners variety, value and convenience.
McDonald's and Olive Garden are examples of how the industry responded to stagnating traffic by trying to offer everything to everyone, said Maeve Webster, a senior director at Datassential.
But complex menus can also scare people away.
"If you're offering everything, you're not doing anything specifically well," said Darren Tristano, executive vice president at Technomic, a food research firm. Tristano compared McDonald's more than 100 menu items to California-based In-N-Out Burger, where the menu hovers around just 10 items, including drinks.
"You know when you go there you're getting burger, fries and a drink," Tristano said. "What a customer wants is to know your story. Why are you in business? What are you known for?"
To be sure, there's one restaurant that's known for successfully executing a wide variety foods, ranging from Thai lettuce wraps to a macaroni cheeseburger: The Cheesecake Factory. That chain offers extensive training unmatched by competitors, so that anybody who comes to work at the restaurant will be able to make anything on the menu, according to Webster.
"It's taken a lot of effort in order to be able to pull that off," Webster said.
But most chains should probably look for other ways to increase variety without adding a million things to the menu, like offering something for a limited time, according to Tristano.
Wendy's Pretzel Bacon Cheeseburger was a limited-time offer that was so successful it become permanent.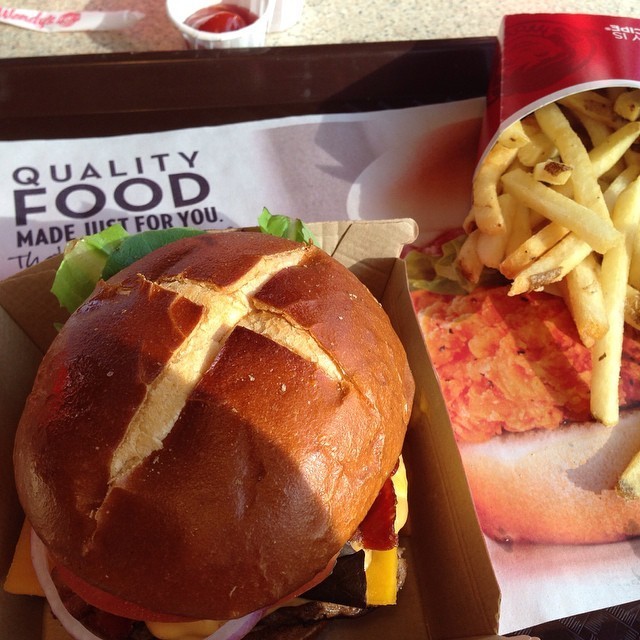 Counterintuitively, stripping down a menu can give people more choices. Five Guys has only burgers, fries, hot dogs and a few sandwiches on its menu, but diners can customize their order with toppings, like grilled mushrooms and A.1. Sauce. At Chipotle,
there are 60,000 ways
someone could place an order, even though the chain only sells tacos, burritos, burrito bowls and salads, the company claims.
In fact, customization has become so trendy that McDonald's
may be expanding a test concept
for a build-your-own burger joint in an aim to compete with the Chipotles and Five Guys of the world.
"Customization is replacing the need to have so many options on the menu," Tristano said.