The
rumors
are true. Forget whatever plans you made, because you're going to want to run to your nearest 7-Eleven.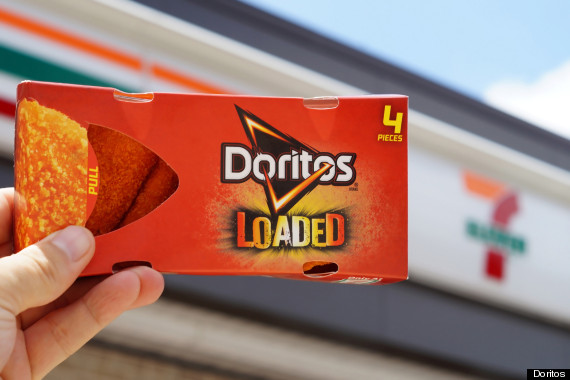 In a July 2nd game-changer, a new type of Doritos are hitting the hot-plates
exclusively at 7-Eleven
. In an attempt to take your snacking experience to the boldest, most extreme level, the new "Doritos Loaded" combines melted American, Romano and cheddar cheese encrusted with Doritos Nacho Cheese flavor and
secret seasoning
.
Rolling out all summer long, the
$1.99 snack
is being
targeted at millennials
. Apparently not for the "faint of heart," the sodium count on these chip-encrusted nacho delights would probably agree with you, coming in at about
1,070 milligrams of sodium
.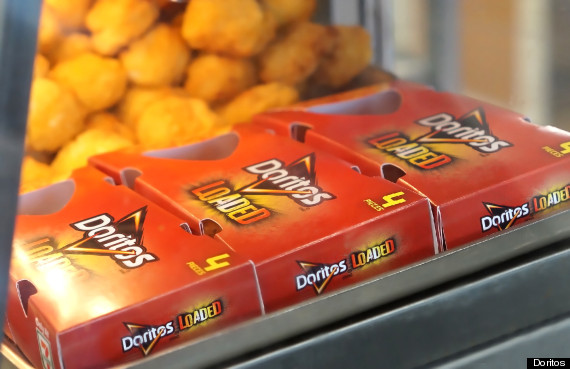 7-Eleven is betting Generation X will pick up a four-pack of the 'Loaded' nacho delight in addition to the Slurpee and pack of gum they usually grab in the store. While USA Today reported Twitter gems like "
I WANT THESE IN MY FACE
," the cheesy snacking experiment is also a polarizing one, much like
Doritos Locos Tacos
. Whether you're the type to pair Doritos Loaded with a Mountain Dew Solar Flare or avoid the snack at all cost, taste tests show that Americans are ready (or at least, willing to try) this snacking innovation.
Taste-marketed in a few states
earlier this year
, Doritos Loaded will not be available in Arizona. As the
mixed reviews
roll in, we're still divided on how we feel here at Huff Post (personally, I think they're great). You can keep up with the rest of the action by following the #DoritosLoaded hashtag and check out some of our favorite reactions so far:
I've shilled for plenty of gross fast food. The loaded Dorito is the worst, and I already have diarrhea. R... https://t.co/ZK0z1QpBNG

— Andy Campbell (@AndyBCampbell) July 2, 2014
@ledbettercarly this is what happens when you eat #doritosloaded https://t.co/SiPD49FTGl

— Ashley Codianni (@AshleyCodianni) July 2, 2014
I saw this and thought, "God is real." #DoritosLoaded pic.twitter.com/G3zXO5Dahn

— Destiny (@DestinyyW_) July 1, 2014
#DoritosLoaded UM I WANT DIS NOW pic.twitter.com/pRep1jZz0q

— — (@Ellington_Chick) July 1, 2014
#DoritosLoaded #ToiletExploded

— Crutnacker (@Crutnacker) July 2, 2014
And Doritos with the classic Ricky Bobby tweet:
IF YOU AIN'T FIRST, YOU'RE LAST. #DoritosLoaded snacks are @7eleven tomorrow! GET SOME before everyone else does! pic.twitter.com/K9ZgsnGAey

— Doritos (@Doritos) July 1, 2014
Want to read more from HuffPost Taste? Follow us on Twitter, Facebook, Pinterest and Tumblr.