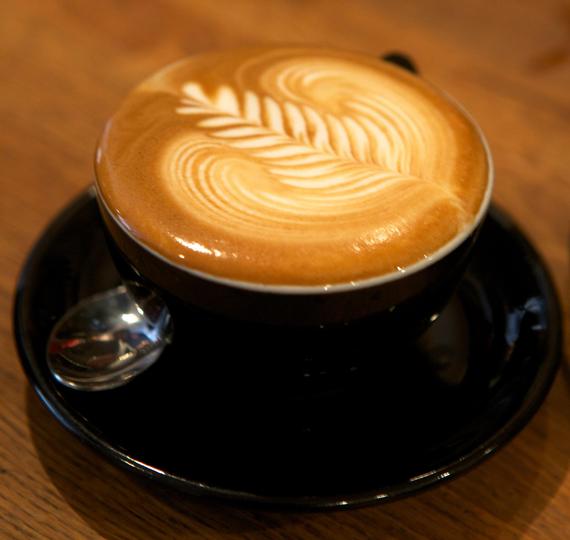 It's no secret that London is having a bit of a moment with coffee. In the last ten years, espresso pop up shops, coffee trolleys, and artisanal pour overs have proliferated across central London and into the furthest reaches of the city -- meaning (thankfully) that an excellent cup of coffee is never more than a few streets away. An abundance of choice means a difficulty of decision, though, so we've honed down London's many coffee offerings to just five of our favorite spots. Phew!
1. Nude Espresso
Nude Espresso is the little coffee shop that could. Beginning as a tiny cafe off of legendary Brick Lane, it quickly expanded to include a roastery, a second location on Soho Square, and a legion of dedicated and culturally influential fans. (They now supply upwards of sixty restaurants throughout the central London area.) The quality of the espresso is thanks to both the relentlessly trained baristas and the highly curated, perfectly roasted selection of beans -- Nude purchases them in microlots from local farmers around the globe.
2.
Taylor St Baristas
Say what you will about the Aussies, they definitely know how to brew a good cup of coffee. Founded by three Australian-born siblings during "
a bleak London winter
" in 2006, Taylor St derives it's charm from a veritable army of highly-trained, relentlessly charming baristas -- but the quality that keeps people coming back is all in the bean. Of the nearly 3 billion pounds of coffee produced globally each year, Taylor St selectively chooses
only the top 3%
. It also has to be said that Taylor St was one of the first coffee shops to signal the new London coffee boom, opening the door for a landslide of hand-poured, artisanally crafted brews. Meanwhile, make sure not to miss
their pop up shop in Tower 42
. (It's only around until the end of summer.)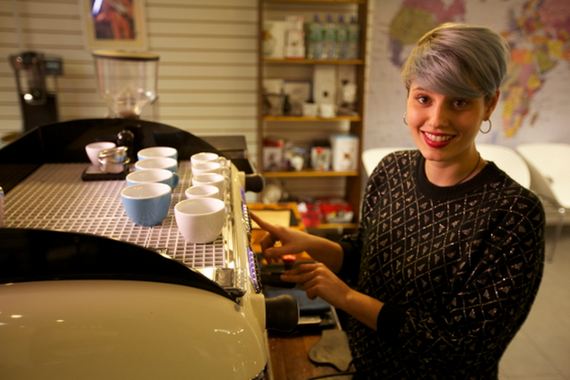 3.
Prufrock Cafe
The London coffee scene may be relatively new, but Prufrock is already a legend. Not only do they offer one of the city's most spectacular cappucino, they also do events, special coffee tastings,
barista training sessions
, and a full library of coffee-related books to browse through. Prufrock also boasts a serious pedigree -- it was founded by the 2009 World Barista Champion Gwilym Davies, and employs a full roster of award-winning brewers from across the globe. Come in for the espresso, but stay for the good people, homey vibes, and no frills menu. Don't miss their original coffee trolley -- it's still parked in boutique menswear store
Present
.
4.
Monmouth Coffee
Good luck sourcing yourself a cup of Monmouth on a Saturday at Borough Market. This wildly popular spot is regularly adorned with a line out the door, although the espresso is decidedly worth the wait. For those up to the challenge, the central, communal wooden table is a great place to settle and enjoy the bustling market vibes (or just take in the aroma of freshly ground coffee). Monmouth sources all of its beans from single farms, estates, and cooperatives, meaning that your pour over is bound to have a flavor both complex and totally singular. Yum.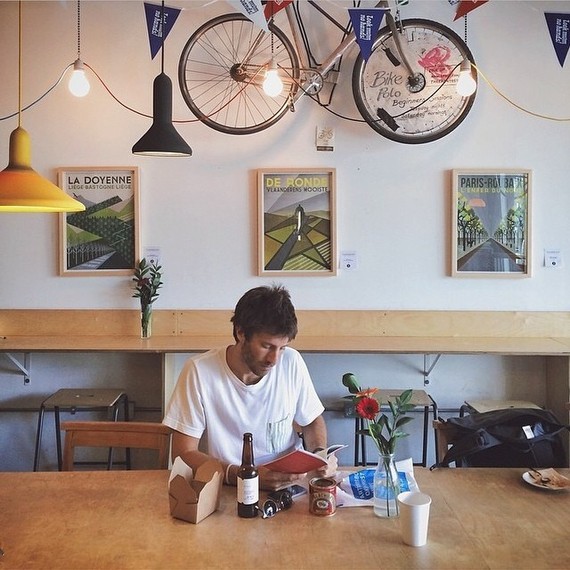 5.
look mum no hands!
Even if the coffee wasn't top notch, we'd probably still want to pop into this cheekily named coffee shop -- run by a crew of bicycle enthusiasts whose good-natured, community-togetherness vibes are clear from the boisterously decorated walls all thew ay down to the warmly smiling baristas. In addition to coffee, they screen films, offer bike workshops, and generally have an all around fun time.