When Marybeth Jeitner saw this brightly-colored lobster sitting in a tank at the supermarket, she knew it was something special. How special? According to the University of Maine Lobster Institute, the odds of finding a yellow lobster are
one in 30 million
.
The lobster had not escaped the attention of others in the supermarket, a Florida Publix. Greg Rogers, the seafood manager at the store, told the Palm Coast Observer that
the oddly-colored crustacean
had attracted a lot of attention. "A lot of people stopped and took pictures," he said. Jeitner told The Huffington Post that it was Rogers who alerted a friend of hers to the rare lobster in the tank.
[Story continues below photo.]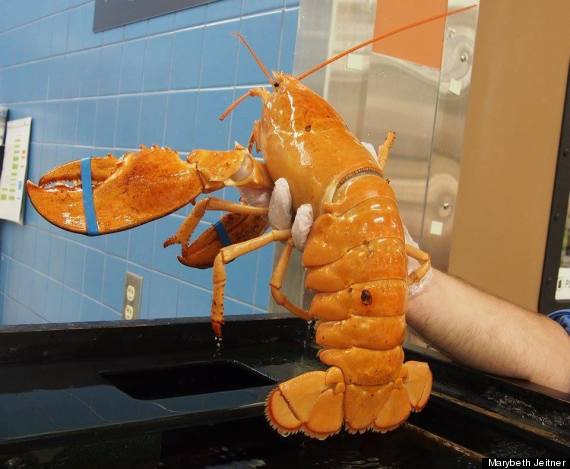 But it was Jeitner who decided to make it her mission to save the lobster, which she named Libbie,
short for liberation
. Jeitner and her friend Heather Chalmers
bought Libbie
from the supermarket and kept her in a salt water tank in Chalmers' kitchen, cooling the tank with
ice and frozen bottles
until they could find a long-term solution.
Employees at the supermarket also played a role in saving the lobster. The Palm Coast Observer reports that the
staff kept the lobster from being sold
and helped the friends prepare the lobster's tank.
They asked many local aquariums if they could take the lobster, but
none had the cold-water tanks necessary
to house Libbie. Employees at the Publix had also
tried calling
local marine centers, but with no luck. Jeitner said that she even considered sending Libbie to Rhode Island to be set free in the ocean.
After a long search, Libbie "is now safe and happy in her new home in
the Seacoast Science Center
in Rye, New Hampshire," Jeitner told HuffPost.
"The most exciting part of all of this to me is that Libbie survived this whole ordeal to become famous and make children who come see her happy," Jeitner said. She and Chalmers plan to write on a children's book to tell Libbie's story.