McDonald's U.S. president is stepping down, a sign the chain may be getting more aggressive in its battle to stay relevant in its home country.
The
fast food giant announced Friday
that Mike Andres, 56, would replace McDonald's USA President Jeff Stratton, who is retiring after serving in the role for just two years and working at the company for 41.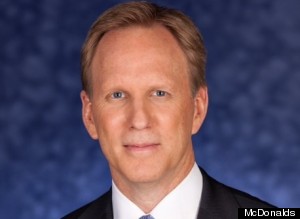 Mike Andres, who will take over as McDonald's USA President on October 15.
Stratton, 58, oversaw McDonald's American division during a tough time for the chain. The company has suffered from months of flat or negative same-store sales, an important metric of a retailer's health.
Meanwhile, chains like Chipotle, with pricier and more upscale menu items, are flourishing.
In recent years, McDonald's has tried to
emphasize its commitment to quality
, freshness and variety.
So far the efforts, which have included everything from
adding an overwhelming number of menu items
to asking gourmet chefs to
cook a meal with McDonald's ingredients
for reporters, haven't paid off.
"We've lost some of our relevance," McDonald's CEO Don Thompson
admitted to analysts
in January.
The company also came under fire this year as more workers protested
the fast food industry's low-pay
.
In addition to the challenges facing McDonald's specifically, the chain is dealing with the obstacles plaguing many other companies as the country grapples with rising income inequality. Squeezed by the recession and slow recovery, lower-income
Americans have been hesitant to spend
-- even at low-cost outlets like McDonald's and Walmart. Walmart replaced its U.S. CEO last month.
Andres comes to McDonald's after working as CEO of Logan's Roadhouse, a steakhouse chain. Before that he worked at McDonald's for 30 years, starting out as a manager in his family's restaurant.
"Mike Andres is an accomplished executive with a track record of driving strong results," Lisa McComb, a McDonald's spokeswoman wrote in an email statement to The Huffington Post. "He's a progressive, strategic thinker with a deep understanding of consumers and the marketplace – and a proven track record of translating those insights into successful results. He brings a wealth of knowledge of the McDonald's System as well as broader experience in the Informal Eating Out industry."