Two men face drug possession charges after allegedly
smoking heroin in the bathroom of a Chuck E. Cheese restaurant
in Costa Mesa, California.
Collin Zborowski, 28, and Daniel Lubach, 27, were arrested last Tuesday after police saw them together inside a stall in the men's bathroom at the Chuck E. Cheese restaurant. A customer reported to police that the suspects were
getting high
in the family-friendly pizzeria's restroom, according to the Los Angeles Times.
"Both males were observed in the process of smoking heroin," Lt. Greg Scott told CBS Los Angeles.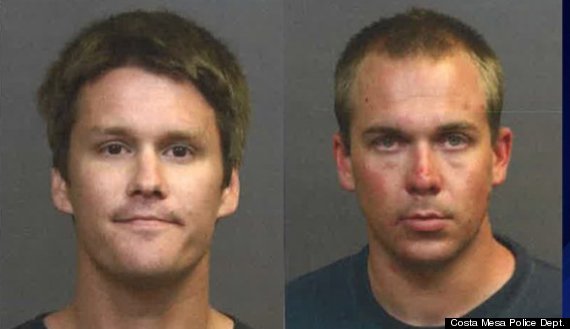 The men went to
Chuck E. Cheese's to meet with a drug supplier,
Costa Mesa Police Sgt. Patrick Wessel told NBC Los Angeles. Police did not know whether the suspects had tried to sell drugs to other people at the pizza restaurant and children's playground.
Both Zborowski and Lubach were under the influence, according to the arresting officers,
who confiscated drug paraphernalia and a small amount of heroin,
KTLA TV reports.
Zborowski was then transported to the Orange Couny jail in Santa Ana, and booked for felony possession of a controlled substance, misdemeanor under influence of controlled substance, and misdemeanor possession of drug paraphernalia.
He was released after posting $20,000 bail on Thursday.
Lubach, was booked for the misdemeanor charge of under influence of controlled substance, was released on a written promise to appear in court.
Chuck E. Cheese spokeswoman Michelle Chism said the alleged incident is disturbing.
"We cannot begin to express the combination of sorrow and anger that we feel about
adults engaging in this type of behavior
in a children's establishment," she said in a statement released to KABC TV.
Like Us On Facebook
|
Follow Us On Twitter
|
Contact The Author