This is your time-honored image of a Parisian dinner party: Elegantly clad guests carrying on a sparkling conversation.
This month, two big dinner parties are turning that picture inside out.
On the evening of June 12, the annual
Dîner en Blanc
attracted 13,000 picnickers swarming over six city bridges. Beginning at 9 p.m., couples clad only in white arrived with folding tables and chairs, baskets of food and bottles of wine. They had been sent personal invitations, and notified barely an hour beforehand where the event would take place: the suspense is a big part of the evening's charm.
There were extravagant white hats, white masks, white wigs, and white table settings. Homemade and gourmet food was laid out, shared, consumed; corks popped (only wine and Champagne are allowed); musicians entertained. A traffic lane was kept open where necessary, but cars flowed by slowly as drivers stopped to gape. The fête ended precisely at midnight, when everyone pitched in to clean up the debris.
This is the 26th year the the
Dîner en Blanc
has been held in France (always on a Thursday in June) and the first time on the Parisian bridges. Previous venues included the Château of Versailles, the Pyramid at the Louvre, the lawn in front of Les Invalides, and even the plaza in front of Notre-Dame cathedral. The Paris party has grown rapidly from the original one hundred couples, and many other cities are now copying the idea: New York, Toronto, Montreal, Los Angeles, Miami, Barcelona, Singapore, Tel Aviv.
The originator of the
Dîner
is François Pasquier, an obviously sociable Parisian whose son now coordinates other dinners from his Montreal base. Some cities, like New York, require municipal approval, but not Paris, where there has been no need for police surveillance. (And amazingly, never any rain.) Perhaps the pristine clothing encourages good behavior, and the fact that everyone is a friend of a friend of a friend.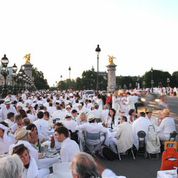 Photo by Stéphane Renaud
The other unusual dinner will be held June 30 for several hundred guests at a large panoramic meeting space in Paris: the
Dîner en Silence
. No translation needed: it will be a four-course meal with wine and music, and absolutely no talking. The originator of this concept is a young woman, Coco Broc de la Perrière, who has studied Buddhism and meditation, and is eager to teach people the joys of silence and mindfulness.
She held a demonstration dinner for 30 journalists several weeks ago. She herself spoke from time to time, reciting inspirational passages, and two sopranos occasionally sang. But guests could not utter a word. We were asked to observe a small pea-like object on our plate, and then taste it. (I have no idea what it was!) Candles were lit, wine was poured, delicious food was carefully and quietly served.
The entire experience lasted just over two and a half hours. During that time, smiles were exchanged and a few small gestures, but not a peep. The silent room became a sort of sanctuary, and finally, when time was up, we simply embraced each other. The silence had pulled us together, far more powerfully than if we'd been chatting away all evening.
Of course, there's a lesson to be learned here: We live in a noisy world, and that noise is both distracting us and dividing us. We are multi-tasking and rushing through our days. We are consigning our thoughts and memories to electronic devices. We are obsessed with the quantity of communication and not the quality. We are left with very little time to pause, to reflect, to dream.
These two dinners, so different from each other, illustrate the challenge of our lives today: The White Dinner, to create a safe and friendly sense of community; and The Silent Dinner, to discover a quiet and peaceful place within.