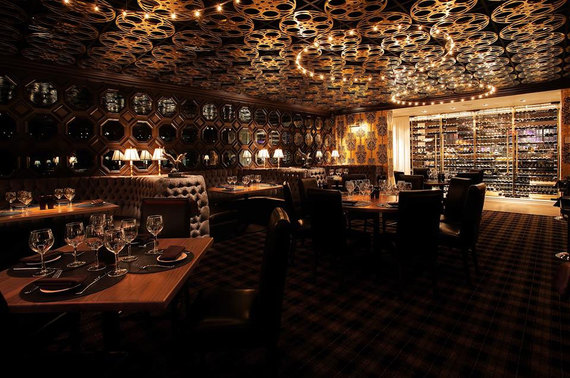 Las Vegas is generally thought of as the place people go to let loose, forget their inhibitions and to party all night-long in sexy clubs and at glamorous resorts. However, the other side of Sin City that makes it so desirable is its award-winning restaurants and notable dining venues. Owning a handful of eateries in Vegas,
Block 16 Hospitality Group
knows that quality food, top-notch service and a welcoming atmosphere are the building blocks of a great dining destination. We recently visited four of their restaurants to give you, our dearest readers, some insight on the company's offerings.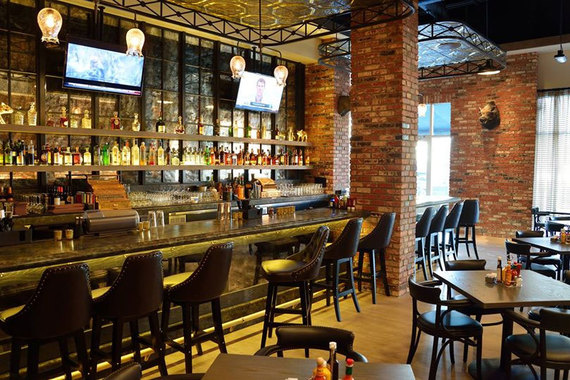 (Photo Courtesy of The Blind Pig)
The Blind Pig
While many of the elements that make the restaurants of Block 16 Hospitality Group so engaging and fun are present at
The Blind Pig
, it's the location that makes it far more frequented by locals. It is situated on the ground floor of the Panorama Towers on Dean Martin Drive. Yet that's not the only facet of this eatery that separates its casual atmosphere from its Block 16 brethren.
Along with the restaurant's massive breakfasts, craft cocktails, hearty dinners and fresh-squeezed juices, the location doubles as a to-go deli and market. Likewise, the made-to-order lunch offerings are customizable, giving patrons the chance to call in their precise wants and have the food ready to take to work or picnic upon arrival. Market items are varied and are well-suited for those who live in the Panorama Towers, as products range from ice creams and frozen pizzas to Champagne bottles and a selection of beverages.
(Photo Courtesy of The Blind Pig)
The restaurant itself has a large selection of universally-loved menu options like pizza, seafood, sandwiches and a fairly standard selection of appetizers. However, as safe and non-experimental as The Blind Pig's menu is, the meals are very well prepared and come in substantially large portions. The majority of visitors will likely be full long before actually finishing the plate.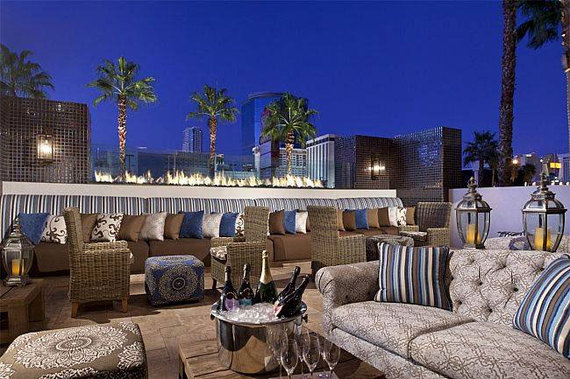 (Photo Courtesy of The Barrymore)
The Barrymore
Pulling into the parking lot at the off-strip Royal Resort to visit
The Barrymore
is misleading as the building's façade and subsequent entryway leave much to be desired. However, exiting the hotel's lobby into the restaurant is like taking a dive into an overtly classy rabbit hole. From the moment you enter to the time you leave, visiting The Barrymore offers an exceptionally atmospheric dining and drinking experience.
Inside, the ceiling is adorned with large film reels while dark metallic walls complement rich furnishings to complete the moody atmosphere and makes for a great romantic dinner opportunity. Outside, the lounge provides a markedly livelier venue. Atop a separating wall, small flames frame the Las Vegas skyline. Equipped with couches and ottomans in place of dining chairs and tables, The Barrymore's outdoor lounge is good for small groups, celebrations and socializing.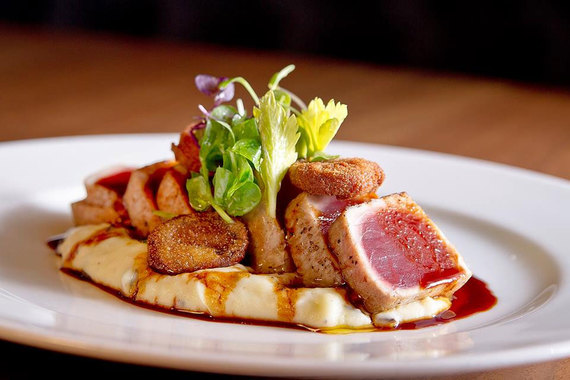 (Photo Courtesy of The Barrymore)
The dinner menu brings hearty American steaks, seafood and poultry dishes expertly prepared by the restaurant's talented kitchen staff, but the real stars are the mixologists and sommelier. Creative, refreshing cocktails and the location's impressive wine list (of vinos specifically chosen to complement the restaurant's numerous meals and small plates), combined with good food and choice of atmosphere, make The Barrymore well worth visiting if you can find your way off the strip.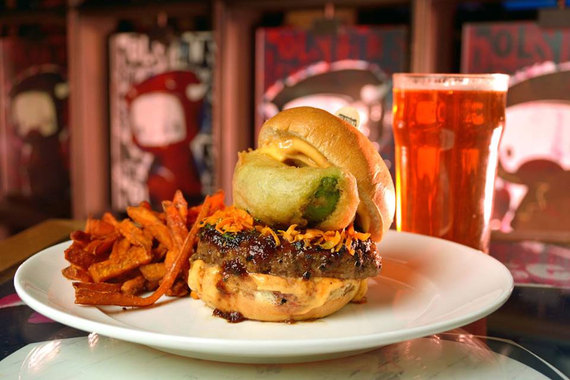 (Photo Courtesy of Holstein's Shakes and Buns)
Holstein's Shakes and Buns
The first sign that
Holstein's Shakes and Buns
inside The Cosmopolitan is going to offer guests a lively and flavorful dining experience is the large pink cow situated at the entrance of the restaurant. Street-inspired, cow-themed artwork covers the windows and walls of Holsteins, which bring a nice casual touch to the hotel and casino steeped in urban elegance.
The fare at Holsteins gives patrons an awesome dose of "freshly made bad-ass burgers," inventive fusion bites and some (dangerously) delicious Bam-Boozled Shakes (milkshakes with booze). This is the kind of place you're going to want save room for during the day so that you have an excuse to try as many appetizers as possible before delving face first into a massive burger. Of course you'll have to wash it all down with a shake or two (who's counting?).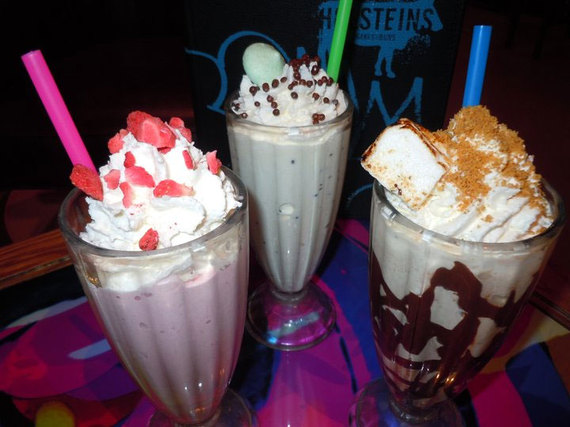 (Photo Courtesy of Holstein's Shakes and Buns)
However, everything on their menu looks downright scrumptious, so here are some of our favorite dishes:
If you're a fan of cheesy or fried dishes, give the "Philly" Egg Rolls a shot. On the other hand, if you want something a bit more sharable that won't fill you up as quickly, go with the Surf 'N Turf Quesadilla or Shrimp & Grits 'Hush Puppies.' After a handful of tasty burgers, there's only one that pervades nearly every craving since visiting the restaurant, the Big Fat Greek burger. Made with spiced lamb, feta cream and tzatziki sauce stuffed into a bun with fresh produce and olive relish--this is just about all we think about or dream of these days.
Okay, so any of their milkshakes are spectacular no matter what your sweet tooth might desire, but we can't recommend the Drunken Monkey (Reese's, Banana, Malt powder and Frangelico) or the Red Velvet Cake Shake (red velvet vodka, red velvet cake and cream cheese mousse) enough. For a casual, fun, inventive and delicious dining experience on the Vegas strip, check out Holstein's.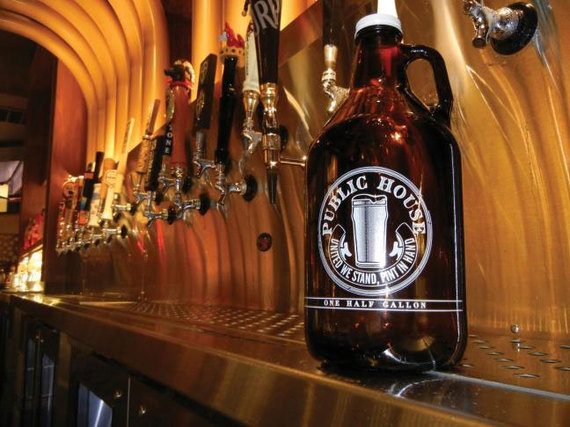 (Photo Courtesy of Public House)
Public House
Noticing a surprising lack of beer-centric locations in Sin City, the restaurateurs of Block 16 conceptualized and opened
Public House
, located at the Grand Canal Shops in the Venetian, to be a true beer connoisseur's haven. Touting over 300 beers, Cicerone Toshihiro Saito pulls no punches in bringing in any kind of beer imaginable from the wildly exotic to American staples.
The regularly rotated selection of beers on tap offers a chance for some lively experimentation and make Public House a killer destination. The menu reportedly changes based on the freshest available ingredients, and Toshihiro consistently uses his expertise in hoppy libations to make sure there are at least a handful of beers on site to ideally complement the thoughtfully crafted menu by Chef de Cusine Thomas King.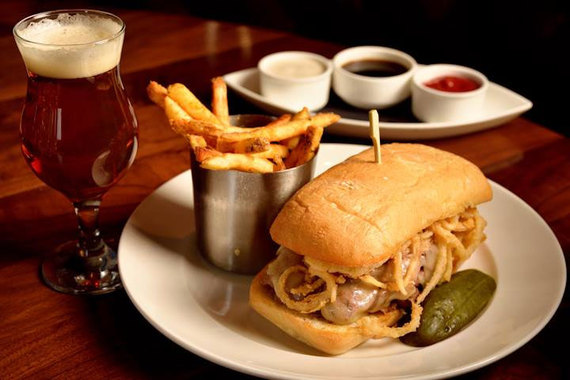 (Photo Courtesy of Public House)
And unlike the fare traditionally served in American beer-minded restaurants, King's menu has forgone dishes like fried mozzarella sticks and jalapeno poppers for items such as grilled octopi, lamb meatball sandwiches and Scottish salmon. Those who have a hard time trying new things though, still have a handful of standard options like the Pub Burger (grass-fed beef, bacon marmalade and gruyere cheese) or chicken wings (with Calabrian chili glaze) to hold them over. Though they'd be missing out on some great flavor combinations, even these dishes are unapologetically unique, and that's just one of many features (over 300, in my humble beer-loving opinion) that make Public House the best beer joint in Vegas, hands down.
Best of all, you don't have to be a beer connoisseur to enjoy visiting Public House. If you're not sure what to order, simply explain your preferences and the knowledgeable (and remarkably personable) servers will help you pinpoint your perfect brew.
By Donald Herrera Fairbairn
(Top Photo Courtesy of The Barrymore)