Behold: the poke bowl, in all its mysterious glory. It's a culinary conundrum that few on the continental U.S. can pronounce. (It's
POH-keh
, by the way.)
These treasures have long been a staple in the Hawaiian islands for
centuries
, yet only now are they sweeping the nation as a must-have food trend.
Poke is cooked and raw, hot and cold -- all at the same time. It resembles a beautifully crafted Chipotle burrito bowl, but with a sushi twist; it's both a comfort food and a healthy meal.
And if we haven't convinced you to try one yet, this might: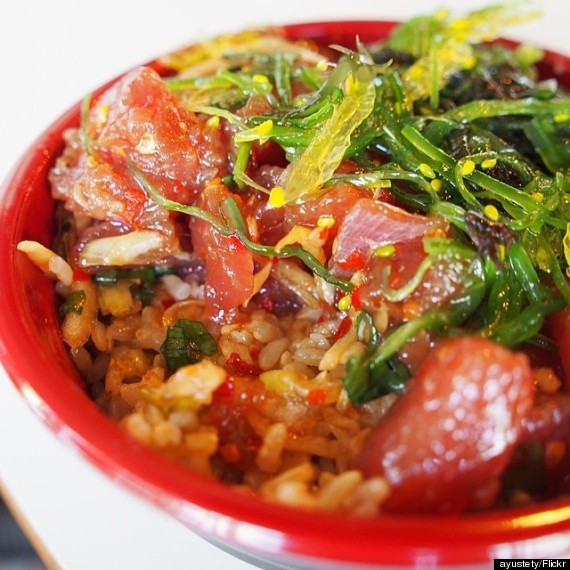 So, just how does one craft their very own tasty bowl of raw, chewy, sometimes crunchy goodness? To find that out, we went to the land from which it came (Hawaii) and asked the experts: Al Cobb-Adams, owner of
Da Poke Shack
, currently number one on
Yelp's Top 100
, and chef Andres Bravo, a former sushi chef-turned-private chef for
Hale Aina
, who was trained at the famed 2-Michelin star
Mugaritz
and has privately cooked for a lineup of A-list celebs, including Rihanna, Jessica Simpson and Alanis Morissette.
Turns out, it's both surprisingly easy and challenging -- and we wouldn't expect anything less. First, we begin with the basics:
1. The Rice
As the first layer of the bowl, rice counterbalances the fishy taste of the raw poke (which means "
to cut into pieces
" in Hawaiian). Chef Bravo recommends using white rice, seasoned with rice vinegar and chopped
kambu
or seaweed.
"Coming from a sushi background, I've learned that rice is very important when served with raw fish," Bravo said. "You want to have a good quality rice." For the highest quality bowl, he suggests using short grain Japanese sushi rice, but regular white rice is also sufficient and can be swapped with brown rice if desired.
2. The Fish
Both chef Bravo and Cobb-Adams agree: Fresh fish is the most important ingredient in a poke bowl. The fresher, the better. Ahi tuna, or yellowfin tuna, is the most common choice used in the islands, but Cobb-Adams suggests bluefin tuna, commonly found on the East Coast, as the best option.
When choosing a fish, consider these three things: smell ("Fresh fish should have a very light fish smell -- almost no smell," he says), color (fresh tuna should be a bright crimson red) and texture (firm to the touch).
Cobb-Adams has also tried using marlin and salmon, and says other fish varieties can be tested. "The fattier the fish, the better it will taste," he says. He also strongly advises against using anything that is farm-raised or frozen. "Fish is one of the last free range meats you can buy," he says, adding that farmed fish are fed man-made foods -- "unnatural stuff" -- which turns the fish meat into "something else."
3. The Cut
Bravo first cuts his fish into filets, "like the ones you see in the window at the sushi bar," he says. From there, he cuts them into cubes. Cobb-Adams says its best to cut "with the grain, not against it," to avoid perforated edges. After it's cut into cubes, salt the fish to taste using Hawaiian or sea salt.
The size of the cube depends on personal taste. "A lot of local people and Hawaiians love the taste of fish," Cobb-Adams says, "so having a big piece to chew on is no problem." People who don't like the fishy taste can opt for smaller cubes to better taste the bowl's dressings.
4. The Poke Sauce And Garnishes
This is where Bravo and Cobb-Adams disagree. Bravo believes that poke should remain simple, like its original Hawaiian form. "It is what it is," he says. "Use super fresh shoyu (soy sauce) and a few other ingredients, preferably locally-sourced, but you don't want to stray too far from there."
Cobb-Adams is more daring in his approach. "You can almost do anything with poke," he says. "You can walk down the aisles of your supermarket and if you think it tastes good, throw it into your poke and toss it. Honestly, whatever tastes good to you."
The Basics
: sliced brown onion, chopped green onion, slices of avocado, lightly drizzled soy sauce,
roe
, cherry tomatoes and sesame seeds.
For Spicy Poke
: blend chili peppers with Hawaiian sea salt and a light drizzle of olive oil until it turns into a paste; mix in with mayonnaise and
unagi (eel) sauce
to taste. (Recipe by Al Cobb-Adams, Da Poke Shack)
5. The Look
"Everything I do is by taste and sight," Cobb-Adams says. "You can have a prime cut of ahi, but if you don't make it look presentable, people will look at it and say, 'That's gross! I won't eat it.' "
Bravo would agree. He says that contrast and color is an important part of a beautifully crafted poke bowl. For his clients, he sometimes adds fried wontons to the bowl to give it a nice crisp texture; sometimes he adds shredded carrot to brighten up the dish.
He also warns against serving the poke flat. "You want to give your dish some height," he says -- thus, a bowl is used. "If you take a spoonful of poke and simply dump it in the bowl," he adds, "it won't look appetizing." To remedy this, form a mound of poke over the rice so that it has a point at the top, like a pyramid.
6. Pulling It All Together
     1. Put the freshly cut cubes of ahi into a large bowl, sprinkle sea salt to taste.
     2. Add and toss soy sauce or desired sauce to taste, just enough to coat the cubes.
     3. Put a scoop of rice in a single serve bowl.
     4. Pour the seasoned poke over the rice, creating a mound.
     5. Add final touches and garnishing.
     6. Sprinkle the bowl with
furikake seasoning
.
Voilà!
Enjoy immediately, while rice is hot and poke is cold.
Want to read more from HuffPost Taste? Follow us on Twitter, Facebook, Pinterest and Tumblr.