From narrowing down our
favorite ice cream flavors
of the summer to getting friendly with
Ben & Jerry's newest SNL-themed ice cream
and exploring the world of
New England ice cream
stand culture, we at HuffPost Taste have eaten a lot of ice cream this summer. We've spent so much time on our favorite frozen treat that you'd probably assume we've had our fill. We might have thought so too, until we discovered
Davey's Ice Cream
.
Davey's isn't just any ice cream store. Owner David Yoo opened the East Village store in September this year, and he's been quietly gaining a loyal following in the neighborhood and beyond. Yoo had never owned a business or worked in food before opening his shop. After starting out as a graphic designer, Yoo went into fashion advertising, where he worked with the likes of Versace and on a Madonna album. After deciding to leave his career as a graphic designer and art director, he set his sights on ice cream. Why ice cream? "I wanted to do something more hands-on, but still be creative,"
Yoo told GrubStreet
. Having made some ice cream at home, he thought an ice cream shop seemed doable, and one year later, he was opening Davey's.
What makes Yoo's operation stand out from the rest is his focus on quality, which is most readily apparent by his commitment to pasteurizing his own ice cream mix. Most ice cream stores don't pasteurize their own ice cream base -- they buy pre-made bases, which they then flavor themselves. Yoo buys his dairy and cream (which has been pasteurized) from
Battenkill Creamery
in upstate New York. With that, he creates custom mixes for individual flavors. The ice cream at Davey's is made completely from scratch -- a claim very few ice cream stores can make these days.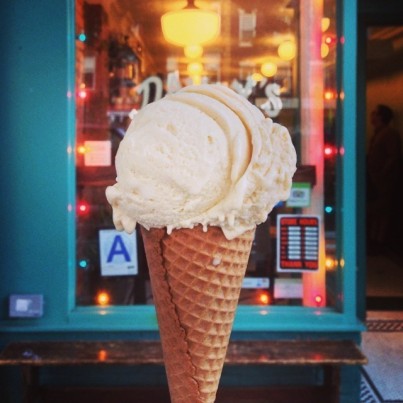 In order to pasteurize the mixes himself, Yoo had to get his kitchen approved as a certified dairy plant from the New York State Agriculture department.
Brooklyn's Ample Hills
and
OddFellow's Ice Cream
, which has locations in Williamsburg and recently in the East Village, also pasteurize their own ice cream mix, but few, if any other ice cream stores in New York City do. By pasteurizing their own bases, Davey's Ice Cream, Ample Hills and Oddfellows have complete control over where their ingredients come from, as opposed to purchasing a base that contains certain ingredients whose origins might not be evident.
It's this commitment to quality ingredients and flavor that makes Davey's Ice Cream truly special.
Walking by the store, passersby might be drawn in by the bright, rainbow-colored sign out front, or the funky font etched on the window. (Evidence of Yoo's first career as a graphic designer?) Step inside and you'll find cheerful staff who won't hold it against you if you ask to sample a few flavors. With flavors like Brunch -- a sweet cream ice cream with brioche French toast, cinnamon-maple syrup and coffee-glazed bacon -- they're probably used to customers asking for a few tastes.
Flavors like Black Pepper Strawberry, Mexican Vanilla, Chocolate Chocolate and Roasted Pistachio are all unique and exciting, but what speaks louder than their flavor profile is their superb taste. Yoo told HuffPost Taste that it's "all about the details," which is why he pasteurizes his own mix. He has worked hard to perfect his recipes, to make sure that the mouth feel, butterfat and scoopability all meet his standards. "If I was going to make ice cream, I wanted to make the best ice cream, and the only way to do that was to make it the hard way," Yoo told HuffPost Taste.
With summer well under way, Davey's has kicked into high gear, transitioning from a one-person operation, to one where Yoo has a full-time manager and 15 people working for him. And with the whole operation taking place in house, Davey's is definitely putting those extra set of hands to good use. Open until 11 p.m. on weeknights and midnight on the weekends, Davey's is your answer for an after-dinner Peppermint Chip, which is supremely refreshing, or a late-night scoop of Cookie & Cream -- made with real Oreos and pretty amazing. It's probably a good thing the shop isn't open earlier than 1 p.m., otherwise we'd want to go for breakfast. Did we mention the Brunch flavor?
Want to read more from HuffPost Taste? Follow us on Twitter, Facebook, Pinterest and Tumblr.