La France aux Français (France for the French)? Mais non -- not in
The Hundred-Foot Journey
.
La France is for tout le monde, or so we can feel -- though only after we also make a 100-foot journey into the community of mankind. That journey requires suspending a fair amount of reality testing, as anyone who has spent time in semi-rural southern France will attest. But if you can, and if you do, you will be treated to a Michelin three-star heart-warmer of a movie.
We begin the journey in Mumbai. The Haji family has for generations cooked succulent Indian food but is displaced by accident and misfortune. They try to recreate their restaurant in London but the food there even today, especially the produce necessary to make it, leaves a person's palate wanting. Papa (the bulbous, endearing Om Puri), is the patriarch; he is widowed but surrounded by a son, two daughters, a son-in-law, and two grandchildren. In other words, a big, fat, wonderful Indian family. Packing their spices, they head to the continent in a decrepit van. Fate has them stall out in a southern French village set among rolling hills, transected by a serpentine river, and rich with the bounty of the surrounding farm and woodland.
A one-star French restaurant distinguishes the village and draws diners from near and far. Madame Mallory (the regal Helen Mirren), a widow, rules the place with every detail of the restaurant and every hair on her head in place. She dreams of achieving a second Michelin star.
Papa spots an old building, à vendre, across the road from Madame's tidy place. It is a rundown, abandoned restaurant 100 feet from Madame's property and her propriety -- about all there appears to be outside this village of old stone buildings, markets, and very French characters. Maintaining that being thrifty is different from being poor, Papa decides to buy the ruin of a restaurant and introduce the pleasures of south Indian cooking to the region. His secret weapon is his son, Hassan (Manish Dayal, a striking actor whose range carries him through the personal journey he portrays), with a gift for cooking that will change everyone, even the French and their revered cuisine.
Amazingly, the Haji family is able to afford and purchase the property, get permission for restoration, and find French artisans and workers who are not on generous summer holidays (or taking long lunches) in what seems like weeks. Even producers Steven Spielberg and Oprah Winfrey could not achieve that. Everything described about building a home and a life in the book,
A Year in Provence
, is truly an underestimate of how long that takes in rural France. I know: I have been at it for over 10 years. Hassan's sauces aren't the only incroyable ingredients in this film.
Love interests abound and sweeten almost every scene. Boy (Hassan) meets girl (Marguerite, played by Charlotte Le Bon with a special glow and mesmerizing, saucer-sized eyes); the girl is an aspiring sous chef at Madame's restaurant, but we know right away that this tart dish will be cooking not just in the kitchen. Papa, a raucous, irreverent adventurer, develops a shine for the Madame, and she for him. But that pas de deux takes a lot more time.
Romance needs adversity and its form in this film should come as no surprise. The French are known for their xenophobic contingent; they appear in this village too -- not just in right-wing French politics. But remember, it takes breaking some eggs and a fire before an omelet can be flipped and placed before you to relish. The bad guys are a necessary disruption before it arrives. And that, too, is not immediate, since you cannot truly come home until you leave, as does our hero Hassan. He becomes a celebrity chef, and a dissolute one at that, before discovering that home cooking is always the best.
So, enjoy this sumptuous film that director Lasse Hallström (Oscar nominee for
Chocolat
) serves up. If we surrender to his cinematic 100-foot journey we discover that France is not only for the French. When they open their kitchens, their towns, and their hearts to étrangers (strangers) there is a feast to be had for all who sit down to dine.
---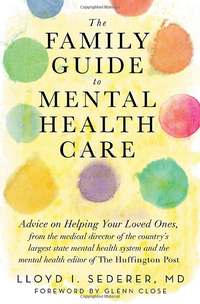 Dr. Sederer's new book for families who have a member with a mental illness is The Family Guide to Mental Health Care (Foreword by Glenn Close).

Dr. Sederer is a psychiatrist and public health physician. The views expressed here are entirely his own. He takes no support from any pharmaceutical or device company.

www.askdrlloyd.comhttp://www.askdrlloyd.com