Recall childhood moments in the kitchen with a parent or grandparent - and the joy of sweet or unexpected flavors along with the beauty of organized chaos? Flour everywhere! Bowls of batter to lick clean. And the payoff: brownies or cookies, a hearty bowl of soup, pancakes. It was a special time of focused attention and exploration.
Fast forward to 2014.
Home cooking in the Foodie Age is paradoxical as take-out/eat-out habits leave home kitchens empty and we are grappling with diet-related illnesses because we have surrendered control over what we eat and how our food is prepared. Remember the joke referring to your cookbook as the pile of take-out menus? Even those are relics as an app does it all for us.
So, is anyone cooking with the kids?
I have rarely met a child who is not eager to get into the kitchen and cook. It starts as soon as they can stand on a chair at the counter, express their preferences and off we go. And the older kids get, the more interesting the process becomes as additional worlds open up - foreign words (chiffonade), exotic flavors, more varied food prep skills, stories about food - the landscape is rich with inspiration.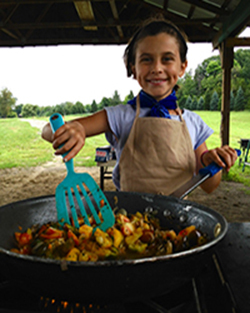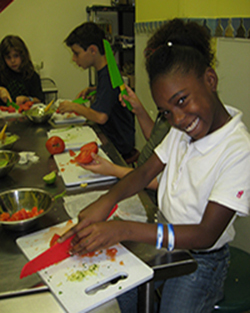 How do we get started with a child in the kitchen? A few tips:
1. I believe in spontaneity, but until you have it down pat, plan your activities in the kitchen so the little hands can stay busy. And there is no worse showstopper than to discover you are missing a key ingredient.
2. Talk through recipe steps first so the kids realize they understand the steps in the process. It is a moment to bring science, math or reading into the kitchen. Even history finds a place in cooking.
3. I love the pre and post taste testing. How do items change when going from raw to cooked states?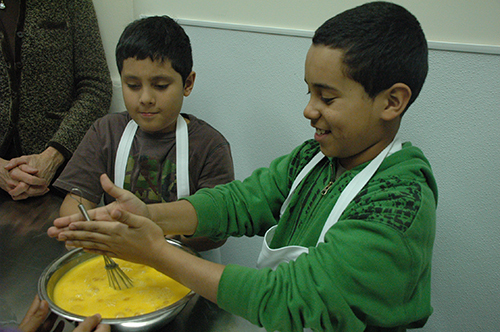 4. This is a good place to learn about the importance of hygiene. Hand washing and safe food practices are good lessons.
5. Don't be scared off by recipes that call for lots of handwork. Kids love to roll, fold and stuff so bring on the dumplings, empanadas, phyllo triangles and spring rolls.
6. Knives are important tools once kids learn the basics like the bear claw - even I could use a refresher now and again. But it is a simple skill worth learning and cultivating.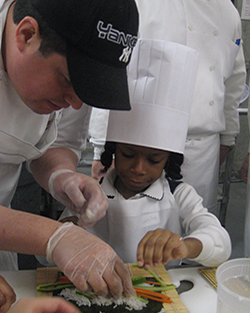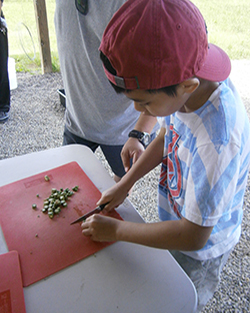 7. Start a cooking adventure with a trip to the market, be it your local supermarket or farmers market. Explore choices together and experiment with something new (let your child pick!). This is also a great moment to figure out where food comes from. Compare a supermarket carrot with one from the farm stand.
8. Explore seasonings - those as simple as salt and pepper to different herbs and varieties of hot accents. The same veggie or pasta or chicken with a different seasoning can be an eye opener.
9. Consider starting a little window herb garden. It's a simple as a few seeds and soil in a paper cup. Before long, you will be snipping fresh herbs into your dishes. Don't forget the avocado pit either! You might not see it bear fruit, but you will be able to watch it grow.
10. One of my kids used to spend hours standing on a chair at the sink washing dishes. Not only is it part of the cooking process, but it can be fun for young ones. Make clean up a fun part of your kitchen routine.
11. I love to quote Miss Frizzle from the Magic School Bus, "get messy, make mistakes." And that is truly the most important thing to remember for grown ups as well as kids. Cooking is following recipes but it is also about creativity. Try new combinations, new ingredients. The more you experiment, the better and more confident you will be.
It is about letting go and giving your culinary child the chance to explore while learning a skill that is a key building block in his or her future ability to make good food choices. If you can't cook for yourself, the ability to eat well is diminished.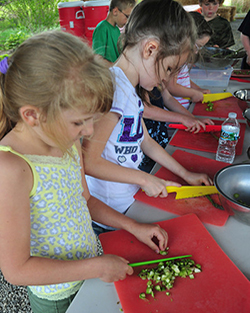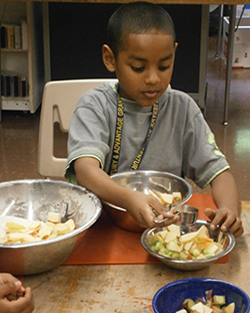 Several independent schools have brought back cooking. One great example is
Manhattan Country School
with their affiliated farm and regular visits. Several schools have robust afterschool cooking classes and clubs. Commercial enterprises have classes for kids, including
Haven's Kitchen
,
Williams Sonoma
and other smaller shops like
The Creative Kitchen
,
Freshmade NYC
and
Tastebuds Kitchen
.
In the non-profit sector,
92Y
and
Asphalt Green Battery Park City
have wonderfully innovative cooking class options for a wide range of ages.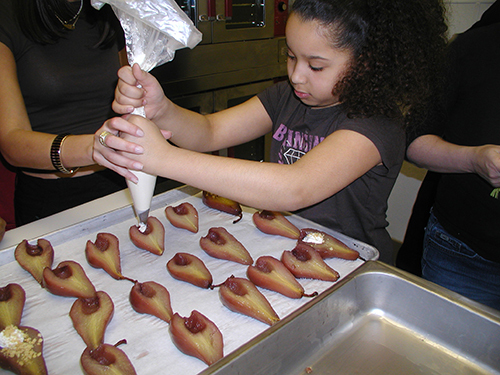 And what I find most intriguing are the non-profit cooking classes geared to young New Yorkers who struggle with diet-related illnesses in families where food security and economic challenges are constant hurdles.
Cookshop
, the nutritional education and cooking program of Food Bank For New York City, works with families in food pantries and in schools.
The Sylvia Center
works predominately in NYCHA community centers with young kids, youth and families to influence food choices with intense and fun 6 week long programs.
Everywhere I have observed children in the kitchen, I hear laughter, I see a willingness to taste something new, I see learning and feel the excitement for the meal to come.
So, what are you waiting for? Start cooking with a kid!
(My cookbook,
Sylvia's Table
, published recently by Knopf, invites all generations into the kitchen. It is packed with approachable recipes, seasonal ingredients and shares stories from my farm and years of experience cooking with children and as a child!)