I wish the Modern Honolulu hotel had managed my high school. At Newport Harbor High, Study Hall was a drag. At the Modern Honolulu, I can sit back, have a cocktail and be educated and entertained amongst a bevy of Honolulu's finest. Their Study Hall is a monthly arts and culture confab hosted by the charming Passion Jennison. This month's entertainment was a tribute to one of the world's most recognized cocktail mixologists Tony Abou-Ganim. He frequently visits Honolulu, this time in honor of the Fourth Annual Hawai'i Food & Wine Festival.
"We are living in the Second Coming of the Golden Age of Cocktails," decrees Abou-Ganim. He should know. The dapper gentleman is one of America's foremost authorities on the art and manner of fine libation. "Today, we have passionate bartenders, craft distillers and wise customers. The art of the cocktail is sexy, gracious and romantic."
At the Modern Honolulu, Study Hall guests were first served a Negroni, a classic yet difficult cocktail. Their hospitality was laced with evangelism. Adou-Ganim leapt to the pulpit and converted the flock with his passion and enthusiasm for the 1919 Italian creation. "When I die, before they put me in the box," raves Abou-Ganim, "All I want is a Negroni." In 1985, he moved to San Francisco where he had his first in a North Beach boite. The Negroni is a complicated cocktail. The beautiful girl next to me, a Japanese media correspondent, was clearly having a hard time finding pleasure in the curious blend of bitter and sweet. "You may not like it at first," Abou-Ganim preached, "Try it three times and you will fall in love." I think he may be right. If sophistication has a flavor, a Negroni is it.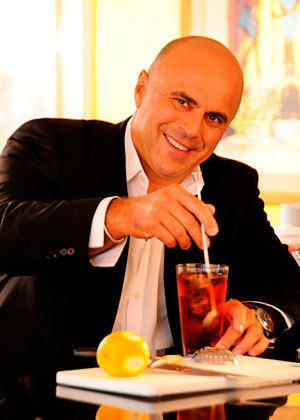 Three times has the bare-knuckled cooking competition Iron Chef featured a mixologist and three times has Adou-Ganim been a competitor. Not often does the hit show pair a chef's creation with a custom cocktail. Adou-Ganim's career is proof that talent recognizes and hires talent. His ascension has been stepped by the finest names in hospitality. In San Francisco, he moved from the hip Balboa Café to the classic Harry Denton's. In New York, celebrity chef Mario Batali hired him for his first restaurant Po. The young bartender then moved up to the glamorous Rainbow Room. There he studied the technique of legendary master mixologist Dale DeGroff. DeGroff later recommended Adou-Ganim to Steve Wynn who scored him to design drinks at the Bellagio in Las Vegas. Fine credits and illustrious awards kept pouring.
Chef Ming Tsai stopped by the Modern event to salute his old pal. The star of PBS's "Simply Ming" said, "I've known Tony for many years. Dale DeGroff introduced us. Tony is such a humble guy; he calls himself a bartender, not a mixologist! You can see his passion."
What does a mixologist do? Adou-Ganim is on the road for three quarters of the year, traveling an average of 130,000 air miles. When he is not headlining a food and wine festival, he is training staff and designing menus and cocktail programs for some of the world's finest hotels. He grins, "When a resort has seventy bartenders, you need consistency."
"Prohibition killed the cocktail," laments Tony. The first two decades of the Twentieth Century were the Golden Age of the Cocktail. As W. C. Fields explained, "(Americans) may go to Europe for our chefs, but Europe comes to us for its bartenders." Suddenly, sophisticated and pleasurable became illegal and a tawdry. No one had time for a "Pink Lady," just a quick shot before the Feds smashed up the Speakeasy.
After the repeal of Prohibition, Tony Abou-Ganim's beloved aunt Helen David opened The Brass Rail in Michigan. There he got his first taste of the bar life. Aunt Helen advocated gracious hospitality, sophistication and attention to detail. These principles made a big impact on the young bartender. He began to revere the cocktail as "liquid satin" and "Fred Astaire in a glass." He was so possessed, he wrote about it. Abou-Ganim is the author of "
The Modern Mixologist
" and "
Vodka Distilled
," two beautiful books for the modern libertine.
We truly are living in the Second Coming of the Golden Age of the Cocktail. Many small distilleries are innovating new product. Liquors are infused, smoked and organically flavored with discriminating fruits and vegetables. The wide selection of contemporary barware and glassware offer hard choices. In our lifetime, I believe that we shall witness the Aquarius Age of the Cocktail when they perfect the driverless car.
Tony Abou-Ganim loves everything about Hawai'i. Growing up in Lake Huron, Michigan, he fantasized the sandy beaches and sparkling blue waters. His love of the food and culture is inspiring him to call a realtor. To celebrate his Hawai'ian romance, the Modern Honolulu served Tony's famous creation, the Monkey Shine to the Study Hall guests. It is beautiful to look at and tastes like Hawai'i.
Monkey Shine
by Tony Abou-Ganim
1 ounce (45 ml) Vodka
1/2 ounce (15 ml) Campari
1/2 ounce (15 ml) Cointreau
1 ounce (30 ml) freshly squeezed lemon juice
2 ounce (60 ml) pink guava nectar
1/2 ounce (15 ml) light agave nectar (simple syrup)
Lemon slices and mint sprig garnish
In a mixing glass add vodka, Campari, Cointreau, lemon juice, guava nectar and simple syrup; shake with ice until well mixed. Strain into an ice filled Collins glass. Garnish with a mint sprig and lemon fan.
The Modern Honolulu's Passion Jennison and Brian Berusch of
Hawaii Polo Life
magazine founded the monthly Study Hall. The events I have attended have been sterling. The speakers showcase the best of Hawai'i's creative talent and community leaders. The tony crowd is peopled with filmmakers, rap stars, moguls and artists. School has never been so much fun.
----
Gordy Grundy is a Waikiki-based artist and arts writer. His new book "Artist's Pants" is available on Amazon Books. His visual and literary work can be found at www.GordyGrundy.com.