It's incredible how a single ingredient can change a chef's perspective. For me it was the coconut.
Though I've spent years in kitchens across the U.K., it wasn't until I moved to Mustique that I discovered the wonders of this fascinating little fruit. Mustique is lush with coconut trees and I quickly discovered that the coconut is an integral part of island life. I find it endlessly inspiring because nearly every part can be used to add complexity and a spectacular tropical flavor to any dish.
Coconut Water
- I think of this as Mother Nature's energy drink. I have a glass every morning... maybe more than one if I was drinking the night before. It's also great in a ceviche!
Toasted Coconut
- Completely addictive, toasted coconut bits are a favorite of guests at the restaurant as well as my little ones at home. The perfect mix of smoky and sweet, toasted coconut is the perfect island treat.
Coconut Oil
- Cooking with coconut oil is a sensory experience. Throw on the some steel drum music, put a splash in a pan and you're in the Caribbean. The aroma fills you with a feeling of the islands, even in a New York City apartment.
Coconut Jelly
- One of the most versatile parts of the coconut, the jelly is a perfect snack for babies but also adds a wonderful savory element to a curry. It's also a great addition to salads and carpaccios.
Coconut Milk
-The first pressing of coconut milk is like first pressing of olive oil and enhances both savoury and sweet dishes with its rich flavor.
Coconut Boat
- I was thrilled when I discovered that the husk (the outer covering that protects young coconuts from the sun while they are growing) is absolutely brilliant for smoking fish, because once coconuts are ripe the husks dry and fall off, making a perfect little boat.
I like to start with a whole fish, such as a small snapper, and season it with an aromatic green jerk seasoning and a little coconut oil. Then, I place the fish in the coconut boat and bake it our stone pizza oven. The boat burns a little, which smokes the fish naturally and gives it a beautifully rich flavour that is truly delicious. I also like to use coconut leaves as a serving dish.
The most sensational thing about being on Mustique is that every day is a culinary adventure. Living on this island has given me the opportunity to explore my creativity as a chef -- the most sensational thing is not knowing what the menu will be from one day to the next. Whenever I need inspiration, I just look to the beach. And as long as I have a coconut, fresh limes, and salt I know a delicious meal isn't far off.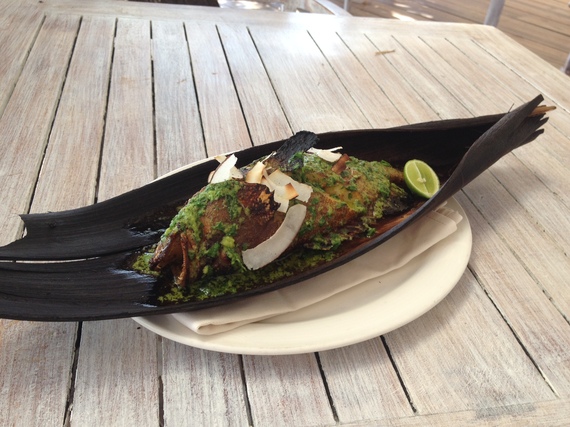 Snapper Baked in a Coconut Boat at The Beach Cafe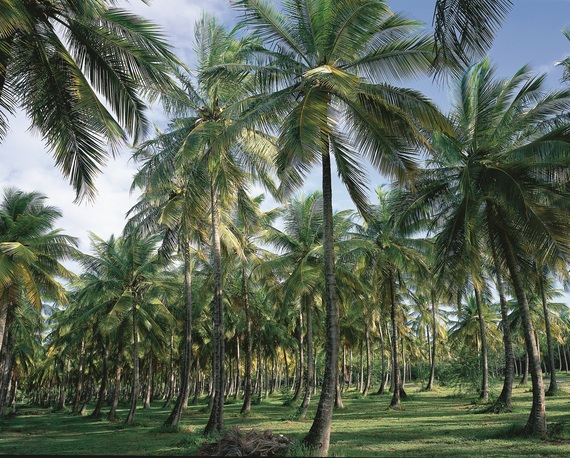 Palm Grove at The Cotton House