Welcome to "Salvage Supperclub," where you eat expired food in an actual dumpster.
The folks behind the aptly named dining club, held this summer in Brooklyn, salvage expired and aesthetically imperfect foods that would otherwise be headed for the trash and turn it into a mouthwatering six-course dinner.
Roughly every five weeks, a rotating guest list of 16 diners -- ranging from social innovation gurus to the plain old curious -- gather inside a retrofitted (and cleaned out) dumpster dining room.
The purpose of all this? To rethink food.
Josh Treuhaft, a recent master's graduate of the Design For Social Innovation program at the School of Visual Arts, first cooked up the supper club idea for his thesis project, "Eat Everything." He then decided to test out the concept on a bigger audience.
"There's all these people in [New York City] who spend extraordinary amounts on food, spend hours talking about their food and taking pictures of their food," Treuhaft told The Huffington Post. "So I wondered, 'Would people be interested in eating great meals in a social setting that is experiential, but do it in a way that's raising awareness about the fact that there's all this food that's getting thrown away?'"
He quickly found out the answer was "yes."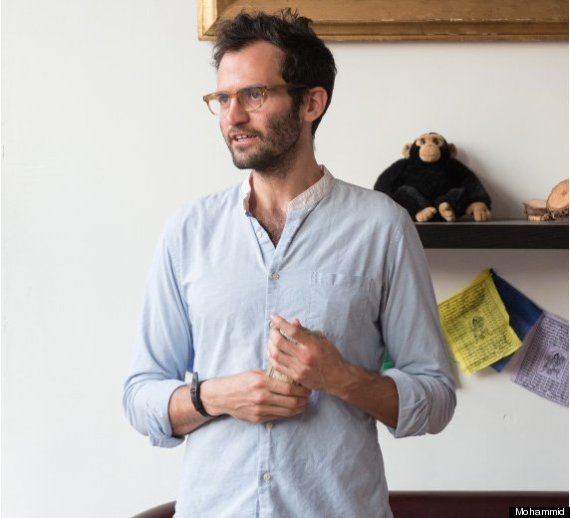 Josh Treuhaft, the mastermind behind Salvage Supperclub

At a recent dinner, held June 28 in the heavily hipster-treaded neighborhood of Williamsburg, diners were served a six-course meal that included zucchini rolls with white cannellini beans and roasted rosemary, as well as a spicy vermicelli noodle dish.
At first, the group appeared both apprehensive and amused by the whole set up, but once diners had their first bite, the mood seemed to change.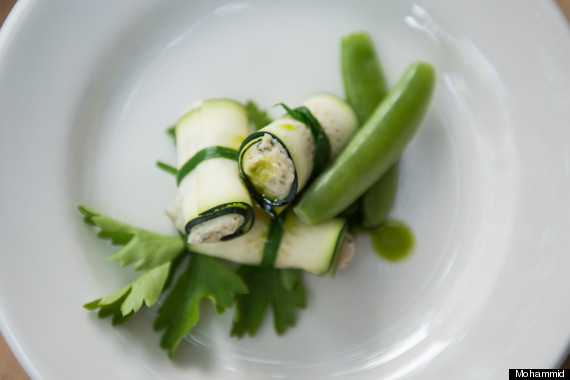 Zucchini rolls with white cannellini beans and roasted rosemary
Treuhaft, 30, teamed up with chef Celia Lam of the Natural Gourmet Institute for the feast, which used 58 pounds of salvaged food. Though the suggested donation for dinner was a hefty $50 per person, all proceeds went to
Culinary Corps,
a charity that hosts a week-long culinary camp each summer in Maine for children with life-threatening illnesses.
Everything was donated by local farmers markets, restaurants and friends who were intending to throw out the undesirable or unused food. Still, Lam says one of the biggest challenges in putting on the dinners is finding the right salvageable foods.
"From a culinary perspective, there's not a lot of time to plan. It's tough to know what you're going to get. So we wanted to keep things relatively simple," Lam said. "We want to show people that they can do this at home."
According to the Natural Resources Defense Council, American families
throw out about 25 percent of their groceries
each year, often because they don't maximize the food's full use -- for example, some people throw away broccoli stems and only use the florets -- or they don't know how to store perishable items correctly. What's more, according to the World Resources Institute, about one-third of
all food produced worldwide
gets lost or wasted in food production and consumption systems annually.
So, what's Treuhaft advice?
"Set your default mode to trying to eat the food you've got instead of so quickly trashing it. Stews, soups, purées, jams, spreads, etc., are all great ways to make use of stuff that doesn't look great or have the texture you want. And they're not actually hard to do," Treuhaft said. "[And] don't be so afraid of getting sick."
(Story continues below)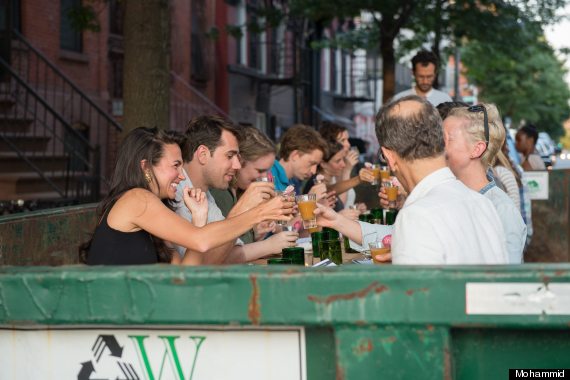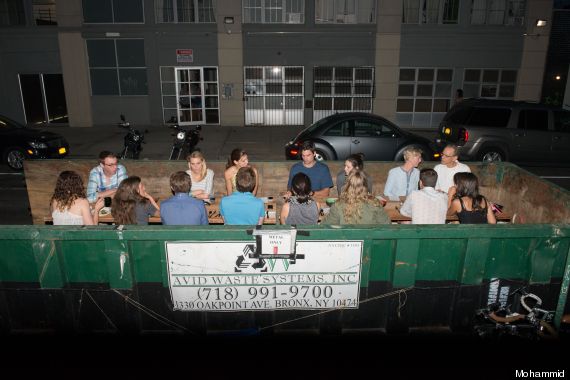 But what is safe to salvage?
As it turns out, the answer isn't so black and white. Bacteria -- like E. coli and salmonella -- that cause illness are totally different from the ones that cause your food to change aesthetically, Treuhaft explained.
"It's a very common misconception people have that when you're food browns it will make you sick -- it might make you gag, but it's not unsafe," Treuhaft says. "On the flip side, molds are a different issue. There are some molds that are unsafe and others that you can just cut off. It's a lot of grey areas."
So far, feedback on the supper club has been overwhelmingly positive, Treuhaft says. But one incident did come to his mind.
"After the last dinner in Williamsburg, I had a woman approach me on the street who was quite critical. She noticed the dinner the night before and told me that she thought it was pretty insensitive to be eating in a dumpster when there are homeless people nearby," Treuhaft said. "I was taken aback since that was never an angle I had considered, but when I explained what the Salvage Supperclub was actually about, she totally lit up. She had judged the event as another shameless hipster foodie experience and written it off, but she ended up being totally supportive and enthused."
Ultimately, Treuhaft says he wants to improve people's understanding of food waste and consumption.
"It's about getting people to change their attitudes and behaviors around food and by doing so, shifting our food system from one that throws away aesthetically imperfect foods to one that embraces the highly imperfect and variable nature of all living things," Treuhaft said.
The next Salvage Supperclub is slated to take place in August. Email [email protected] for more information.
Try out Chef Lam's Carrot Greens & Fennel Frond Pesto

(Recipe yields 1 cup)
Ingredients:
2 bunches, carrot top greens (approx. 2 cup)


1 bunch, fennel fronds (approx. 1 cup)


½ cup blanched almonds (can substitute pine, walnut or macadamia)


2 cloves garlic


1 ½ Tbsp yellow miso


½ cup olive oil


Sea salt


Optional - basil oil
Instructions:
Add almonds and garlic to a food processor. Pulse until a coarse paste forms.


Add carrot greens, fennel fronds and miso paste. Process until well mixed.


Add olive oil and process until smooth consistency is reached. Season with salt.


Serve on toasted baguette slices, garnish with pickled kale stem and drizzle with basil oil.
Culinary Tip:
Traditional pesto recipes often call for parmesan or pecorino cheese. To make a non-dairy or vegan version, substitute cheese for miso paste or nutritional yeast.
Want to read more from HuffPost Taste? Follow us on Twitter, Facebook, Pinterest and Tumblr.