You may think, hey, I know my oysters. There's big ones, little ones, briny ones, sweet ones, West Coast, East Coast. I even know a few names -- Wellfleet, Kumomoto, Bluepoint, and, um, did I say Wellfleet? And I know for sure they taste good with a big dollop of cocktail sauce on them.
That's about where I was on the subject, at least. And that's where Kevin Joseph comes in. He's the mastermind behind
New York Oyster Week
, the annual bivalve extravaganza now in its third year. And he wants to teach people that, when it comes to oysters, "cocktail sauce is the enemy. My favorite thing to do with an oyster is put fresh-ground horseradish on it. Literally take the root, and just fuckin' take a hand grater. To me it's just so logical, like fresh ground pepper or fresh ground parmesan on your pasta."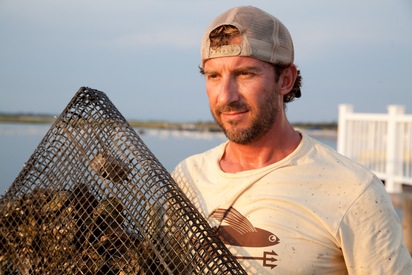 New York Oyster Week founder Kevin Joseph, in his element.
Joseph sees himself as "the Steve Jobs of oysters... People are like, 'Why don't you just get a fuckin' bunch of Bluepoints [for Oyster Week]?' Well, because that's not the point. We're trying to teach people the difference between a Bluepoint and a Kusshi and a Belon and a Kaipara from New Zealand, and whatever. OK, I get it, I'm a fuckin' geek about these things, but people really like learning about it, because at the end of the day everybody likes to sit at a table with a bunch of important people, maybe clients, and order very intelligently the proper oyster. It makes them look good, it makes them look smart, they enjoy doing it, and get something good out of it. And one of the missions of Oyster Week is to help people learn that."
The man has a point. I've been with folks who can scan book-length wine lists with authority, who demand to know the mineral content of the dirt from the farm where their ramps were grown, but when a waiter starts describing the oysters on that day's menu, their eyes glaze over. And that shouldn't be the case. Oysters are not only delicious, they've also got a rich history, especially in New York, which was one of the oyster capitals of the world well into the 19th century. Oysters, both cooked and raw, were scarfed up by millionaires and paupers alike -- in fact, the oyster cart was, as Joseph puts it, "street food 1.0 in New York City." Pollution and habitat destruction killed off a lot of New York's native oysters. "I mean, Liberty Island & Ellis Island used to be called Big Oyster Island & Little Oyster Island. They were oyster reefs," says Joseph, apparently with some incredulity that anyone would want to lose fresh local oysters just for the Statue of Liberty.
Oyster Week has something for everyone. For the hoity-toity set, there's
Merroir Et Terroir
at the Monarch Room, a seafood and wine pairing dinner featuring six East Coast and six West Coast oysters, with food by Monarch Room chef Michael Citarella and wines by culinary celeb David Rosengarten. Joseph came up with the concept: "I want to go from the salt marsh to the open ocean. I want the first course to be shallow water [fish], then deeper and deeper and deeper. I don't know that anyone's done that before. But it's a cool way to organize a menu." The courses will appropriately be listed as "First Fathom" through "Fifth Fathom."
For those craving a more casual vibe, there's
Oystoberfest
. Along with oysters, it'll feature craft beers from Bluepoint Brewing Co., plus pretzels, brats and all the other essentials for a traditional Oktoberfest. And in a nod to New York's rich and sumptuous oyster tradition, there's
Empire Oyster
, which features not only the best local oysters, but the best local chefs preparing them, and pairing them with the best made-in-NY beer, wine and booze. It's perfect whether you're a Noo Yawk snob or just a well-intentioned locavore.
There's even something for vegetarians, if you want to buy into Joseph's thinking. "Oysters reproduce very much like plants," he says. "They reproduce externally. It's almost like plants who send the seed out, or an agent, like a bee, goes from plant to plant. So oysters are probably the animal that's most like a plant on the planet."
Joseph has big goals for Oyster Week. A chunk of the proceeds from the fest will go to the Billion Oyster Project, whose goal is to repopulate the waters surrounding the city with the oysters that were here when the place was first discovered by the Dutch a few centuries back. Oysters not only clean the water (an adult oyster can filter up to 50 gallons of water a day, according to Joseph), but they can also provide valuable wave mitigation for the shoreline, so Hurricane Sandy-type waves would be less destructive to the city. Unfortunately, the idea of edible oysters from New York harbors is still a ways off, since, says Joseph, "the amount of shit that goes into the water here would take a trillion oysters to filter, quite literally."
Oyster Week is just a warm-up for year-round events bent on propagating what Joseph calls "The Oysterhood," members of whom are referred to as Oysterfarians. "We created a brotherhood and a sisterhood of oyster growers, distributors, servers, shuckers and consumers," Joseph explains. "You love oysters? You're in the Oysterhood. I wanted to create a common denominator for all those people... It's a fun and sexy and delicious 7th grade biology class."
This time around, the "week" is actually closer to three weeks (it's September 11-28, to be exact), but a daily excuse to slurp oysters for the rest of the month can hardly be considered a bad thing. Check out the full list of events
here
, and leave the cocktail sauce at home.