We've baked a lot of cakes in our day: Crepe cakes for co-workers' birthdays; wedding cakes for close family members; and
just-because cakes
for when we really needed a piece of cake. We love our cakes to be full of butter and frosting and then more butter -- bonus points
for being chocolate
.
But when summer time hits, we're ready to take a break from our traditional cake, because baking and summer heat don't make the best of friends. Especially when there's a cake that's made of towering fruit and requires absolutely no oven to be enjoyed. Ladies and gents, let us introduce you to the cake you'll be eating all summer long. Take a look at this beauty: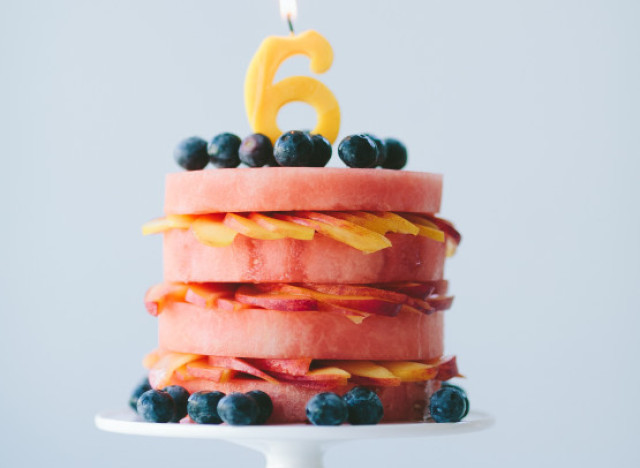 This cake has no flour, no butter, no sugar and no chocolate. What it does have is fruit --
watermelon
, guys -- presented in the most beautiful of layers. When the days are hot and long, this is the cake that's going to get you through. And, it's one you can feel good about eating. Plus, no baking skills necessary.
One of our favorite food bloggers, Ashley Rodriguez from
Not Without Salt
, made this beautiful creation for her son's 6th birthday. When he asked for watermelon and peaches for his birthday dessert, the pastry chef in Ashley turned that request into this most perfect summer cake. While there's not much of a recipe that goes into a dessert like this, head on over to her blog to
see how she put it together
.
Want to read more from HuffPost Taste? Follow us on Twitter, Facebook, Pinterest and Tumblr.