If one theme has emerged over the past decade in the culinary world, it is probably that simplicity is king. Gone are the days when fancier, more elaborate and more expensive meant better. Chefs are focused on showcasing high quality ingredients with minimal preparation instead of tirelessly laboring over recipes that take days to prepare. Restaurants too are simplifying, in both decor and presentation. (When's the last time you saw a menu with an actual description, rather than just a few ingredients listed under a dish?)
Sometimes the simplest things in life are the best. So it goes with a seriously simple marinade that has been a stronghold in the summer rotation of a few of us here at HuffPost Taste. We've used this marinade on chicken, steak tips and even cannellini beans, and it hasn't ever failed us. It hasn't failed our mothers and aunts either, which is how we discovered the recipe. It's one of those hand-me-downs that is tried-and-true.
This marinade may not be following the farm-to-table trend, and it's certainly not following the artisanal food trend either. In fact, it's made with two highly processed ingredients. But it's dead simple, and pretty perfect.
So do you want to know what it is already? It's one part Italian dressing, plus one part barbecue sauce. That's it. You can use any kind of Italian dressing and barbecue sauce you want, but one preferred route is using Wish-Bone Italian Salad Dressing and Kraft, Original or Honey Hickory Smoke.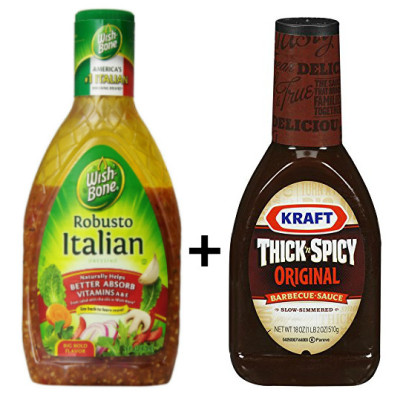 The benefits of this recipe are manifold: One, you can easily adjust the proportions based on the amount of meat or chicken you're using, because it's a one-to-one ratio. Second, you can find the ingredients pretty much anywhere, and third, they won't break the bank. Finally, it's easy and tastes really, really good.
You can use the marinade for grilling and let your steaks, ribs or whatever you're using sit in the marinade for a few hours or even overnight. You can also use it to cook chicken in the oven or slow cooker. The tangy dressing goes great with the sweeter sauce, and you would never guess that the final product comes from only two bottles, and such readily available ones at that.
My aunt found this recipe by overhearing two women talk about it on the T in Boston on her commute home. "One part Italian dressing, one part barbecue sauce" stuck in her head as she heard these two women gab about this sensational new marinade. My aunt's been using it ever since, and in the spirit of how she learned about it, has passed it on to many.
Summer's not over yet, so get your grill on with this dead simple marinade. And let us know what quick and easy recipes you're relying on this summer.
Follow HuffPost's board Grilling Recipes on Pinterest.
Want to read more from HuffPost Taste? Follow us on Twitter, Facebook, Pinterest and Tumblr.