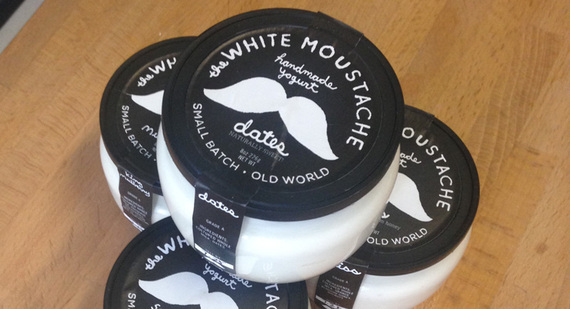 Grumblings of praise about The White Moustache yogurt have been reaching us for some time now. Made in Brooklyn by a father-daughter team using the family's longstanding Persian techniques (the brand is named after the father's signature facial hair), The White Moustache comes with old world cred and a contemporary twist. And it's hard to get, made in such small batches that only a few local vendors carry it, although many others want to.
We've been intrigued for a while, but after reading about The White Moustache in this month's issue of
Vogue
, we made a point of deciding for ourselves if it's as good as its growing number of fans proclaim. Intern Edgar tracked down four flavors at BKLYN Larder on Flatbush Avenue and brought them back to Strolby Headquarters. Armed with a plastic spoon each, the Strolby staff got down to work, passing Dates, Mulberry, Kiss (Walnut and Orange Blossom Honey), and Sour Cherry around in a circle.
The verdict? As for the yogurt itself, our reactions were wide-eyed, gushing and full of awe at the contradictions produced by each taste: thick but creamy; light but substantial, an otherworldly combination of sweet and tart and tangy. This is similar to Greek yogurt, but the consistency is smoother, with a more distinct taste. Best of all, most yogurt brands shamelessly overdo the sugar, but The White Moustache injects only the sparest, most natural sweetness into its yogurt.
All four flavors lived up to the brand's top billing, but we came away from the experiment with two unanimous favorites.
Head over to Strolby to read the full review of them
.