Just a few weeks ago, Scout the fluffy pup was saved from being killed and eaten when he was bought from a vendor at an annual dog meat festival held in the Chinese city of Yulin.
He spent last weekend at a Humane Society gala in Washington, D.C., accompanying his new mom, Leslie Barcus, who sits on the board of the animal welfare group. At the time, he hadn't even yet been named, but his job was abundantly clear.
"I would really like to make sure he's an ambassador to the community," Barcus
told the website Animal Issues Reporter
. "We could use his help for educational purposes about the plight of street dogs and of dogs used as food -- for human consumption -- across Asia and other parts of the world."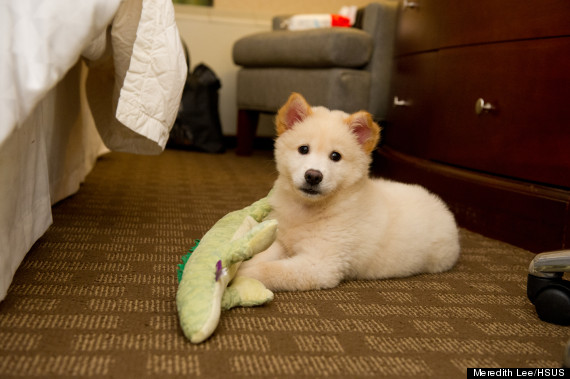 Here's what
the South China Morning Post says about the part of the world Scout comes from
:
Traditionally, people in Yulin celebrate the summer solstice by eating dog meat and lychees washed down by strong liquor. Each June in recent years, more than 10,000 dogs were slaughtered for the festival as tourists flooded the streets to enjoy the feasting.
(WARNING: GRAPHIC IMAGE BELOW)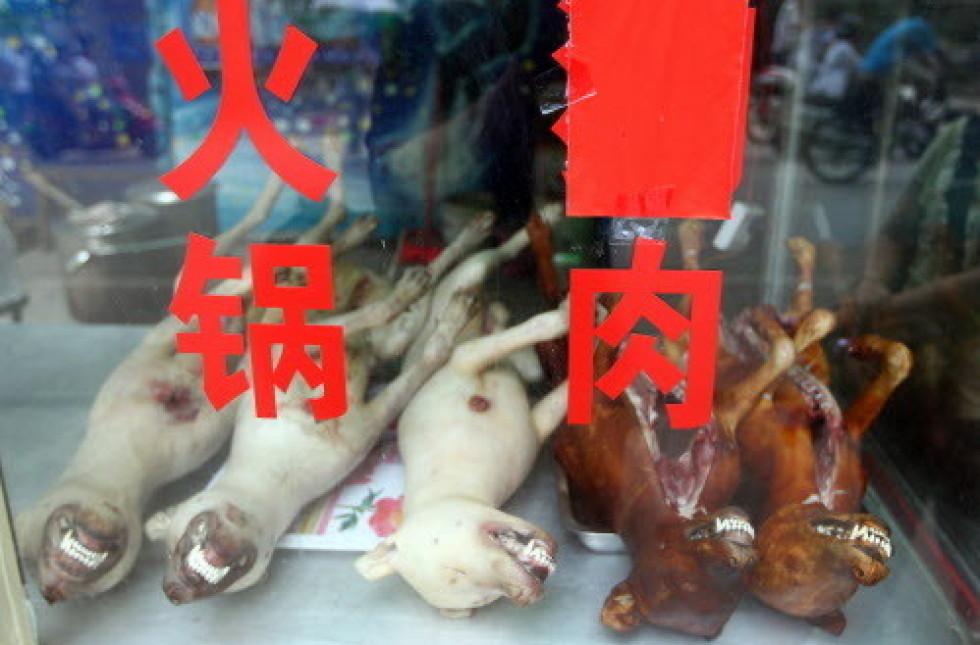 AP Images for HSI
The festival, which is often defended as a local custom, has long drawn the ire of international animal activists and celebrities. But this year,
Chinese protestors outnumbered those who had arrived from elsewhere
, highlighting that controversy over the tradition is local, too. Dog meat prices shot up, and the number of restaurants serving dog meat decreased,
a move some attribute to increased pressure by animal lovers
, according to the Wall Street Journal. One restaurant owner said her
business was down a third
after a confrontation between locals and activists.
"This year, a lot of people chose to eat at home to avoid the chaos and trouble, including my family,"
said city official Liang Shasha
. "I went to the market that night and saw a lot of places advertising take out."
One of those animal lovers is Peter Li, Humane Society International's China specialist. Li was in Yulin with other activists, investigating and protesting the feast and
saving some dogs from death by buying them away from meat vendors
before they could be slaughtered and eaten.
Li found Scout and another wee polar bear of a dog, now named Colby, being held on a motorcycle. "On its back was a cage with only two small, adorable puppies," he says. "Yes, it was hard to leave others behind, not that we did not care but because we could only do so much. Every time I come back to China for events, conferences or field study, I pray that 'please do not let me see a stray dog on the street.'"
Li -- who kept Colby for himself, and describes his experiences at the dog meat festival
on the Humane Society's blog
-- tells HuffPost he hopes the dogs will help bring attention to the Yulin event, and hasten its end.
"It is going down and will be gone," he says. "We understand better that the dog meat festival has no future."
Scout's future is, in the meantime, looking increasingly pet-like. Barcus tells HuffPost that the little guy has been "getting a lesson in dogness" from her other two rescue dogs: Spock, a German shepherd who was pulled from a puppy mill bust in 2008, and Cowgirl, a border collie mix who came from a high kill shelter in Tennessee last year.
"The idea of a scout is loyalty, helping others, be friends of animals and to be in and love nature," says Barcus, who hopes that this pup, with his irresistible looks, feisty personality, and incredible story, will inspire those traits in others.
"I hope that Scout will both be an ambassador for all animals," says Barcus. "Those in the dog meat trade, and as a symbol that humans should respond to the ethical calling of honoring other species and the role of those species on the planet."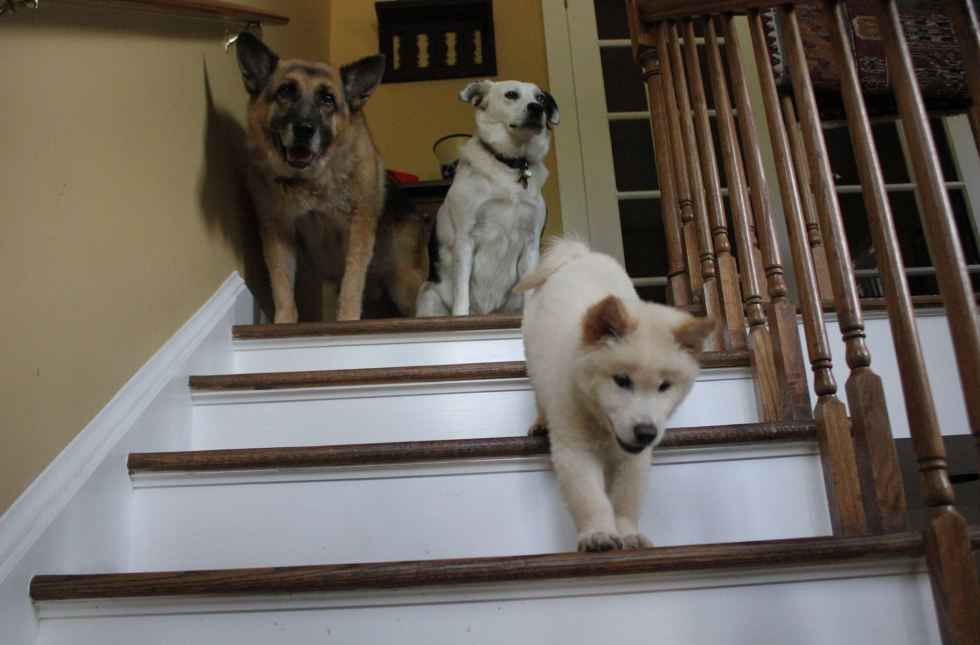 Do you have an animal story to share? Get in touch at [email protected]