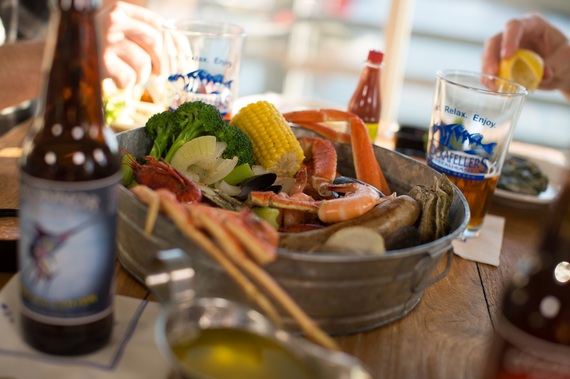 For years, Virginia Beach, like many beachfront resort communities, was better known for fun food like burgers, fries, and ice cream than it was for award-winning cuisine. But that's changing thanks to a thriving culinary scene driven in large part by a serious commitment to locally sourced food.
Rockafeller's is a Virginia Beach institution located on the marina. Although the menu covers its bases, the emphasis is on fresh, local seafood. Specialties include crab and shrimp hushpuppies and freshly caught fish reeled in that day. And because Virginia Beach is situated at the mouth of the Chesapeake Bay, the kitchen serves a rare treat: lump crab served simply, baked with drawn butter.
Rodney Einhorn, the chef at Terrapin, who did a stint at Le Cirque in New York and who has cooked at the James Beard House in New York, is focused on locally sourced everything to the point that the menu is entirely driven by what's available on any given day. He relies on New Earth Farm, an organic space in the Pungo farming community just outside town. The farm grows a large variety of small crops from blackberries to sweet tomatoes. There are also free-range hens that lay fresh eggs and goats that produce fresh milk during calving season, which shows up on the menu.
Visitors can tour New Earth Farm or book a cooking class in the onsite classroom where the shelves groan with jars of preserved produce.
Even beachfront burger joints, like the new Lager Heads, are leaning local. Here, the bar features Virginia wine and 16 local brews on tap. Virginia Beach and the surrounding area has become a hotbed of breweries with a half-dozen in the area so far. For instance, Young Veterans Brewing Company was founded last year by two Iraqi War vets and offers beer with names that pay tribute to their military service like Jet Noise (a double IPA) and Pineapple Grenade (a Hefeweizen).
Leaping Lizard Café, which was featured on the Food Network's "Dives, Diners and Drive-Ins" is a fun, casual space where chickens roam the yard. The kitchen sources eggs and herbs from its own backyard and taps local fruits and vegetables to create everything from the daily flatbread to seafood risotto.
Breakfast doesn't get better than at Doc Taylor's. Tucked on a side street in the heart of town, this restaurant, which is only open for breakfast and lunch, is housed within the former home of a 1930s doctor. Quaint rooms with fireplace mantels and creaky doors set the stage for solid home cooking. Massive platters of eggs, thick slabs of smoked Virginia ham and sautéed potatoes fuel the day.
Pleasure House Oysters is a new farm that's dedicated to cultivating local oysters. After years of depletion, Chesapeake oysters are returning thanks to operations like this one. Visitors can bring a bottle of wine aboard an oyster boat for a tour of the hatchery and sample oysters. Virginia Beach Oysters -- called Lynnhaven --are said to be among the sweetest thanks to their unique habitat at the mouth of the Chesapeake Bay where it opens into the Atlantic Ocean. If you'd rather try these oysters on land, they appear on the menus of area restaurants like Terrapin and A.W. Shucks Raw Bar and Grill in nearby Norfolk.