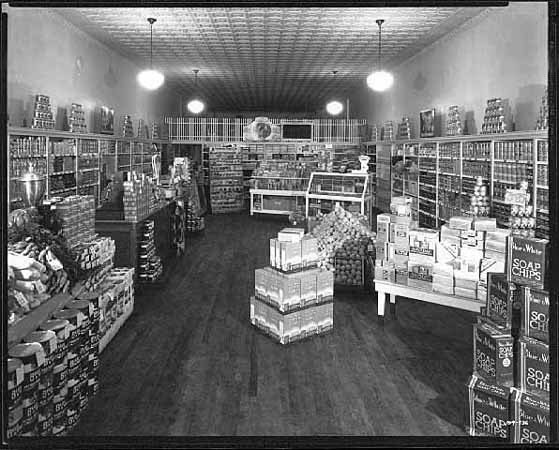 Remember when grocery stores used to look like this? Perhaps not, as this photograph is from 1935. In the absence of big-box stores, supermarket chains, or even a frozen section, the typical corner or small-town grocery store looked much like this store, from Delano, Minnesota. A shopper could enter the store and see all the offerings from the doorway, often with cans or boxed stacked with laser like precision.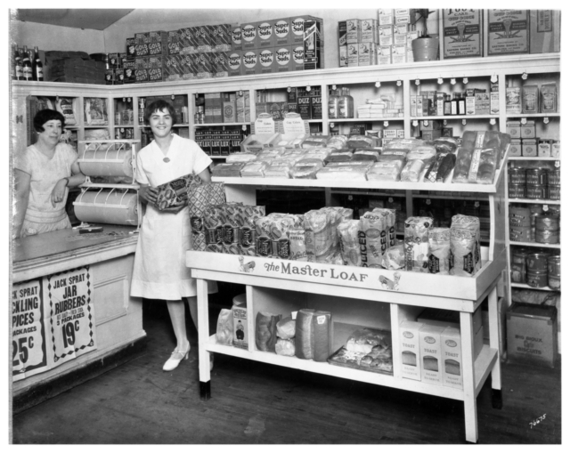 In addition to the perfect displays on the shelves, some companies, much like today, would have their products featured in a more central location. This Zinmaster Baking Company bread display is prominently featured near the counter with a variety of their products showcased.
Red River Valley potatoes were also specially promoted at this grocery store. Atop the neatly stacked bags of potatoes sits a diorama to further attract customers to the display. This view, from 1956, also shows how grocery stores continued to grow, from smaller shops to larger stores. Only a fraction of the store is visible in this shot.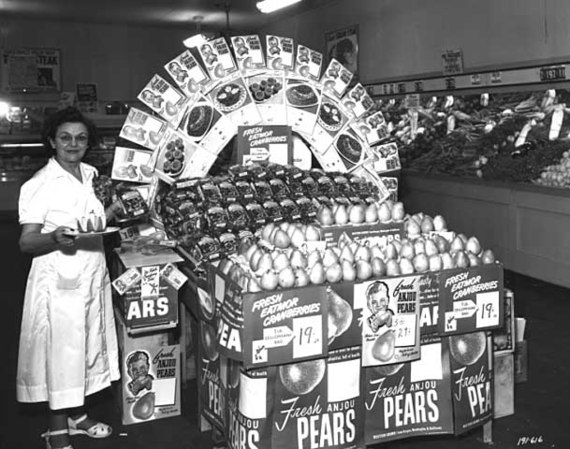 This pear and cranberry display has really upped the ante, including recipe ideas in the form of an arch over the products at this grocery store in 1949. Including recipes near featured ingredients is a promotional technique that is still used today, often corresponding with holidays.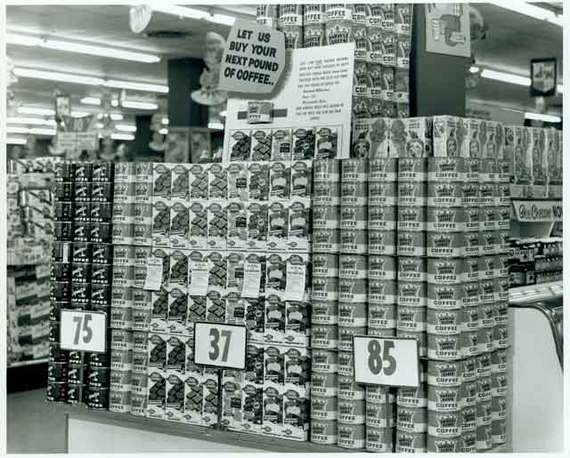 As stores grew in size and the need for aisles was apparent, end cap displays were considered prime real estate and the perfect spot to highlight sale items, new products, or other featured goods. This boxed and canned food display at a Red Owl grocery store shows perfectly arranged merchandise and will likely make viewers nostalgic for 37-cent boxed brownie mix.
These images provide examples of how food placement in grocery stores has evolved over the last century. Numerous other examples of grocery store images not shown here can be found by visiting the Minnesota Historical Society's
Collections Online.
Happy shopping!